These delicious bite size treats have a wonderful balance of nuttiness and fruitiness, thanks to the both the hazelnuts and figs
If you are unfamiliar with what a friand is, you are not alone! I too only learnt of the concept recently. They are really just little cakes, traditionally made with ground almonds, include some fruit and are baked in an aspic mould. Apparently popularised in Australia by a French chef, it is no wonder they are closely related to the traditional financier. (A lesson on this for another post).
We were recently visiting one of our favourite wine farms, Babylonstoren, and purchased a box of fresh figs from their shop. They grow their figs in their garden and I just love scouting the fresh produce to return home to bake with.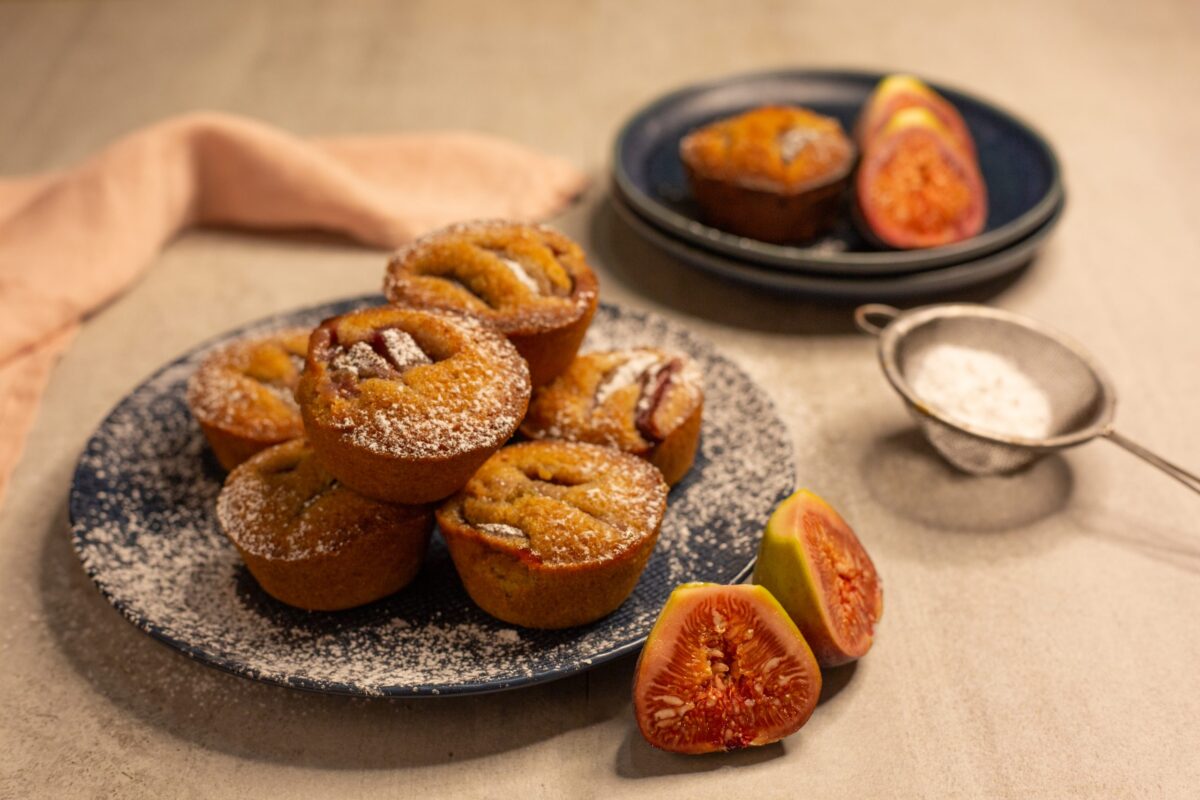 It was not immediately obvious what I wanted to make, but after a bit of reading and researching, I though it was time to give these friands a try. I also had some leftover egg whites from making a custard recently, which was a bonus as the recipe calls for only egg whites. I have since made this with bottled egg whites and the recipe works as well.
These cakes are typically made with ground almonds, but here I swapped them for ground hazelnuts instead. To ensure the hazelnuts come through strongly, I recommend you toast them first. The result is a cake which has a nutty flavour, with some natural sweetness from the fresh fig and if finished off with a dusting of icing sugar, is the perfect accompaniment to a high tea.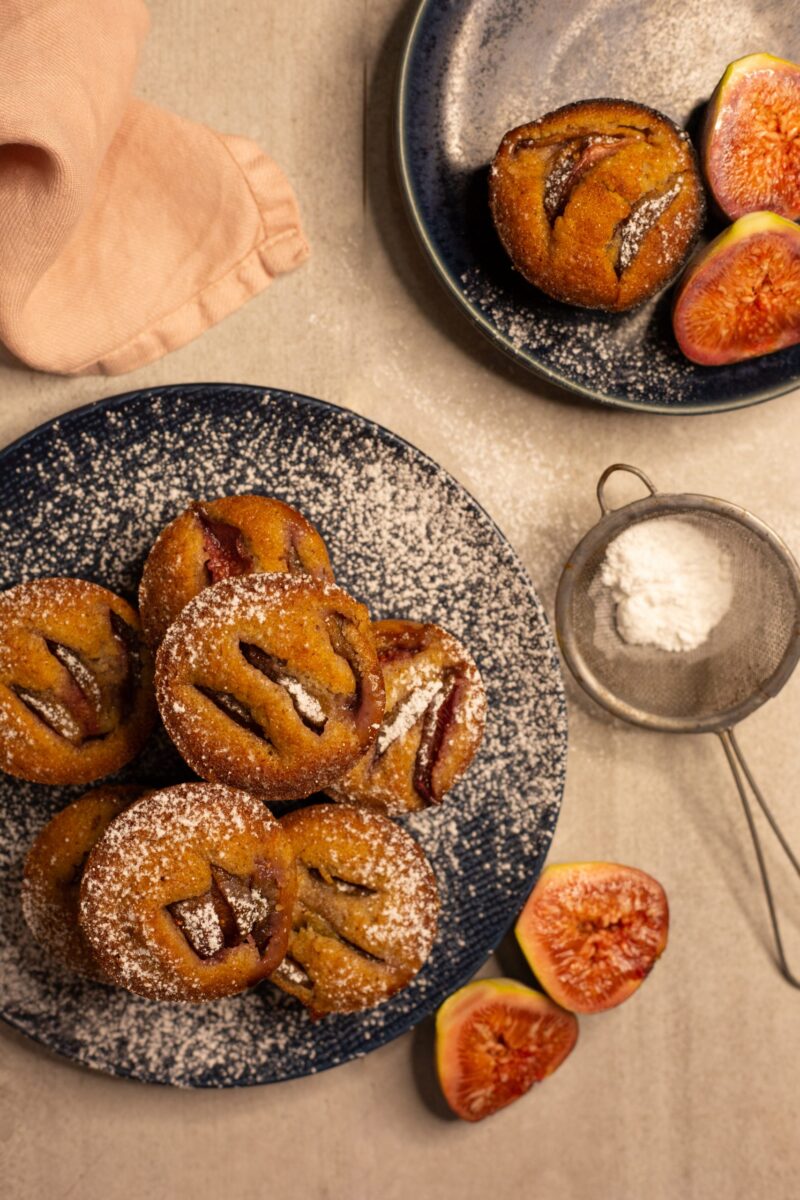 If you make this recipe, please share it with me by tagging me on Instagram @adventureswithsugar or on Facebook at Adventures with Sugar. Please also leave a comment below to let me know how you got on with the recipe.
FOR THE FIG AND HAZELNUT FRIANDS (MAKES 15)
160g butter, plus extra for brushing the tin
120g hazelnuts
120g cake flour, plus extra for dusting the tin
180g icing sugar
1/4 teaspoon salt
1/2 teaspoon cinnamon
140g egg whites
250g fresh figs
METHOD
Preheat the oven to 200 degrees Celcius. Brush a 12 cup muffin tin with some melted butter, then sprinkle over some cake flour and tap out the excess so that the tin is lightly coated. Place in the fridge. (You will need a second muffin tin, or will need to repeat the process as the recipe makes 15 friands).
Place the hazelnuts on a tray and lightly roast for 5 minutes.
Place the butter in a pot and melt on medium heat. Continue to melt until the butter begins to turn brown and gives off a nutty aroma. It can go from brown to burnt quite quickly so be mindful.
Remove the hazelnuts from the oven, allow to cool slightly, then add them to a food processor and blitz until fairly finely ground.
Add in the flour, sugar, salt and cinnamon and continue to blitz until finely ground.
Whip the egg whites until frothy. This can be done by hand and does not need to form peaks of any sort.
Add the ground dry ingredients and the browned butter to the egg whites and fold to combine.
Distribute these into the muffin tins, until about three quarter full.
Quarter the figs, then cut each quarter into three slices and arrange on the top.
Bake in the oven for 10 minutes, then turn the oven down to 180 degrees and bake for a further 8 minutes.
Let the friands cool in the pan for 5 minutes, before removing. Dust with icing sugar and serve with cream, if desired.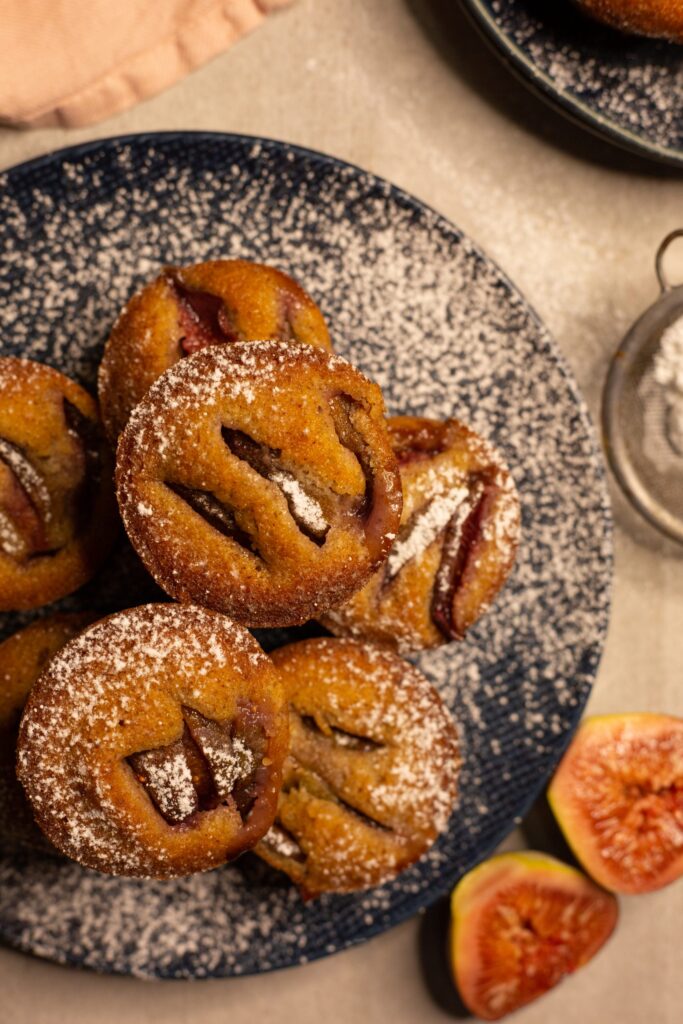 Recipe by adventureswithsugar.com