These biscuits are a combination of my favourite things: lovely crisp custard biscuits, sandwiched with a raspberry buttercream.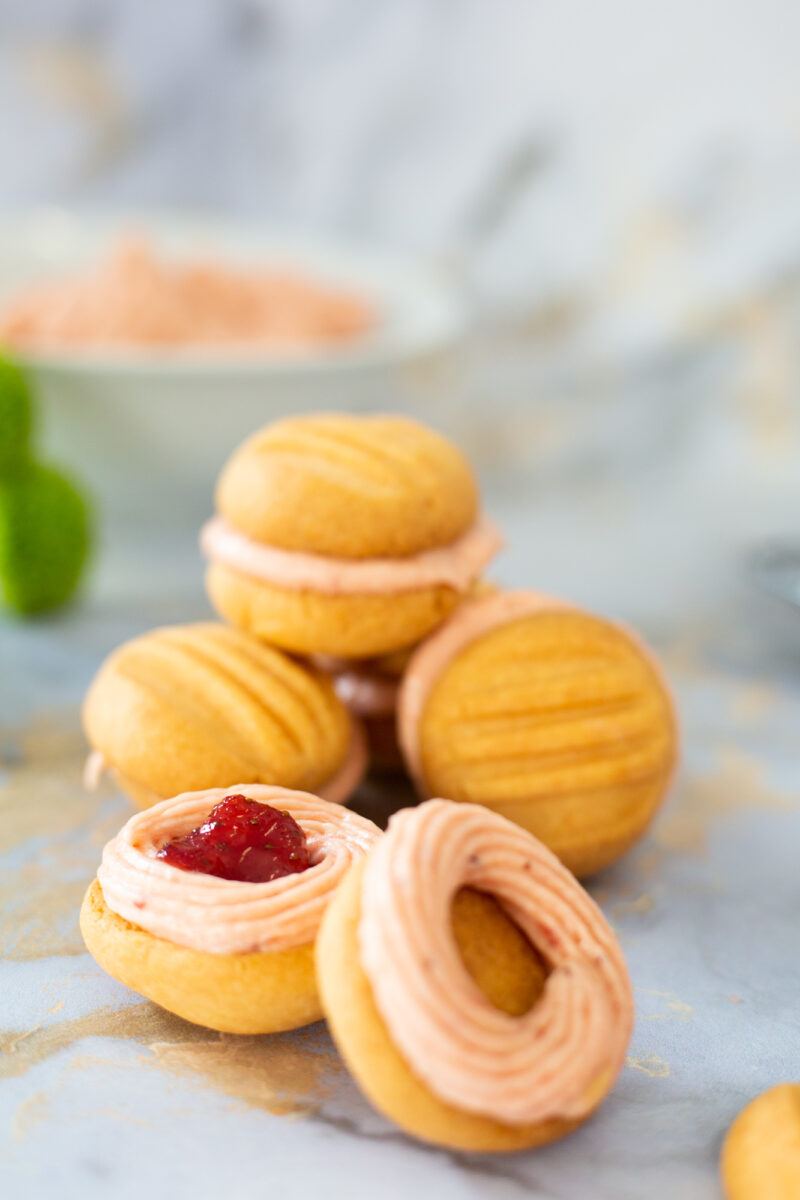 I was chatting to my aunt on the phone recently and she mentioned baking a batch of these custard biscuits. They are something I grew up eating and every time I visit home, I return to Cape Town with a stash in my bag. I love dipping the custard biscuits into warm tea – just enough to soften them while still leaving them crumbly.
They are super simple to make and require only six ingredients, most of which will be readily available in your pantry. My mum is a vegetarian and doesn't eat eggs, so I sometimes try and discover new recipes that she can enjoy too – this is one such recipe.
On a (related) note, I was cleaning out our cupboards the other day and came across boxes of jelly. It turns out Linsen's favourite childhood treat was custard and jelly. This gave me the idea to combine these custard biscuits with a "jelly" buttercream – OK, so technically it is more of a berry buttercream than jelly, but let's just go with it!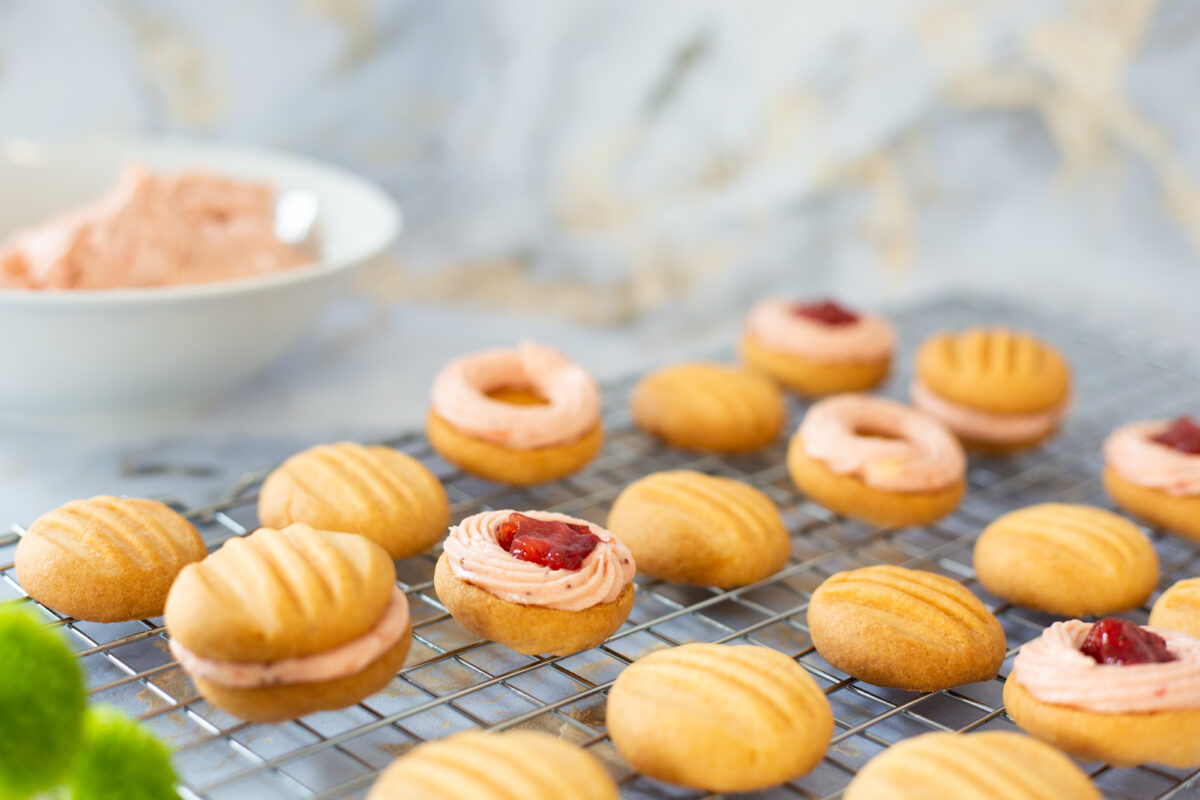 I had some roasted strawberries at home, so I used them in the sandwiching too, but you can use a store bought jam of your choice. You could even make a vanilla buttercream, or leave it out completely. These biscuits are delicious, with or without being sandwiched.
If you make this recipe, please share it with me by tagging me on Instagram @adventureswithsugar or on Facebook at Adventures with Sugar.
CUSTARD BISCUITS
90g cake flour
25g icing sugar
35g custard powder
100g salted butter, in 2cm cubes at room temperature
1/4 tsp vanilla extract
METHOD
Pre-heat the oven to 170˚ C. Line a tray with baking paper.
Sift the flour, custard powder and icing sugar together.
Add the softened butter to the dry ingredients and slowly mix. The mixture will reach a breadcrumb-like consistency.
Add in the vanilla extract and beat on medium speed for around 30 seconds until the dough just comes together.
If the dough does not come together, just add a teaspoon of water.
Break off small pieces of dough and roll them into balls.
Place the balls on the lined baking tray, spaced at least 3cm apart. The biscuits do spread slightly when baking.
Dip the back prongs of a fork in flour and press down onto each biscuit. Don't flatten them too much, just enough to make an indentation.
Bake for 20 minutes. You want the biscuits' bottoms to be just set, but not brown too much and become dark. Start checking them at around 18 minutes – the exact time will depend on your oven.
Once baked, remove the biscuits from the oven and leave them to cool on the tray for 5 minutes – they will still be quite fragile to handle.
After the 5 minutes, place the biscuits on a cooling rack to cool completely.
BERRY BUTTERCREAM
30g salted butter at room temperature
60g icing sugar
1 Tablespoon raspberry/strawberry jam
more jam, as needed to fill the center
METHOD
Cream the butter for 1 minute.
Add in the icing sugar and continue to cream for another minute.
Add in raspberry jam (or another berry jam) and mix until incorporated.
Once the biscuits are cooled, sandwich pairs of biscuits with buttercream. You can make a ring of buttercream around the biscuit, if you like and fill the center with more jam.
Recipe by adventureswithsugar.com