This is my take on the usual chocolate chip cookie. They are crisp on the outside but so chewy and soft on the inside, with morsels of white chocolate and crunchy toasted pecans.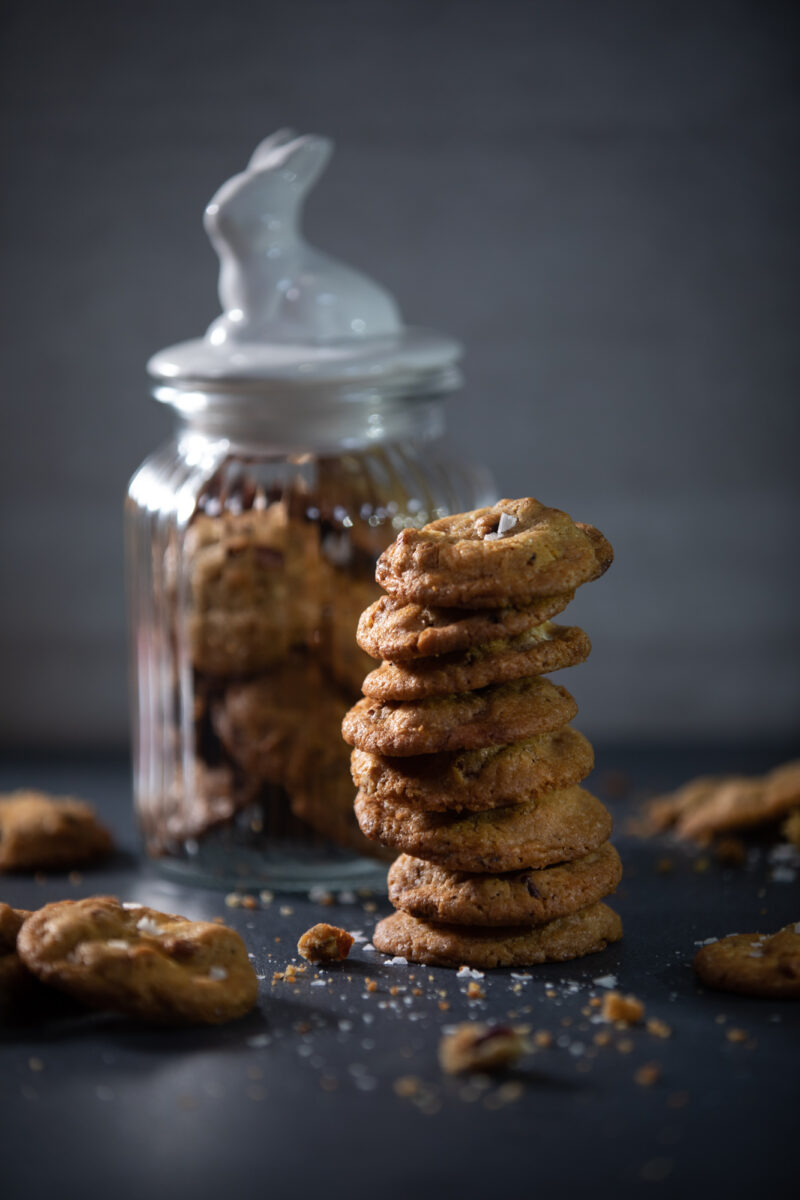 There is something special about that perfect cookie, which is crispy on the outside and soft and chewy on the inside. I have never been much of a cookie baker, but find that there are some advantages to getting your sweet fix from cookies as opposed to cakes.
Firstly, I think there is relatively less effort in prepping to make the cookie, no lining of tins! Also, it helps that I can make the cookie dough in advance and keep in the fridge and just bake up a few when the urge strikes. My will power is not strong enough and having a cake lying around is not good for my diet.
That being said, we baked these to shoot with the intention of Linsen taking them to set for a show that they were shooting, the next day. Unfortunately, only a quarter of the cookie jar made it to set! These are so moreish.
I know good quality white chocolate can sometimes be expensive, but it really does make a huge difference to the overall taste of the cookie. Using a cheaper compound chocolate just tastes a bit gritty and overly sweet. Not over baking the cookie results in a crisp edge with a soft and chewy centre, yum! Sprinkling some salt flakes on the cookie adds a nice balance to the overall sweetness.
Having cookies around for a nice accompaniment to your tea is always a winner! I hope you enjoy them as much as I do.
If you make this recipe, please share it with me by tagging me on Instagram @adventureswithsugar or on Facebook at Adventures with Sugar.
PECAN AND WHITE CHOCOLATE COOKIES (makes around 56 cookies)
200g butter, at room temperature
200g light brown sugar
50g muscavado sugar
50g granulated white sugar
1 large egg
1 egg yolk
210g cake flour
1 tsp bicarbonate of soda
1 tsp salt
220g pecan nuts, roughly chopped
220g good quality white chocolate, roughly chopped
salt flakes for sprinkling
METHOD
Roughly chop the white chocolate and set aside. I cannot stress enough how much different these cookies turn out when using a good quality chocolate.
Roughly chop the pecan nuts and toast them for around 5 minutes on a pan, set to medium heat. They have a tendency to burn so be careful. Then set aside to cool. (This step is optional but gives the cookies an enhanced nutty taste).
Cream the butter for about two minutes until light and fluffy.
Then add in the white sugar, light brown sugar and muscavado sugar and continue to cream until light and fluffy.
Add in the egg and egg yolk and continue to cream until incorporated.
Sift the flour, salt and bicarbonate of soda together and slowly add to the creamed mixture until well incorporated.
Fold in the pecans and white chocolate.
Place in the refrigerator for the butter to firm up, for at least three hours. I usually make the dough in advance and bake them when needed.
When ready to bake, preheat the oven to 180 degrees Celcius, and line a baking sheet with baking paper.
Roll the dough into little ping-pong sized balls and space them well apart, they do spread when baked.
Bake the cookies for around 8 to 10 minutes, until the edges start to brown, and the centre is well risen. Do not overbake or the cookies will not be chewy in the middle.
Let rest on the tray for a few minutes before removing, as they will still be fairly soft.
Sprinkle with sea salt and enjoy !
Recipe by adventureswithsugar.com