These lemon squares are quick and simple to make with just a few ingredients and have a lovely rustic feel to them.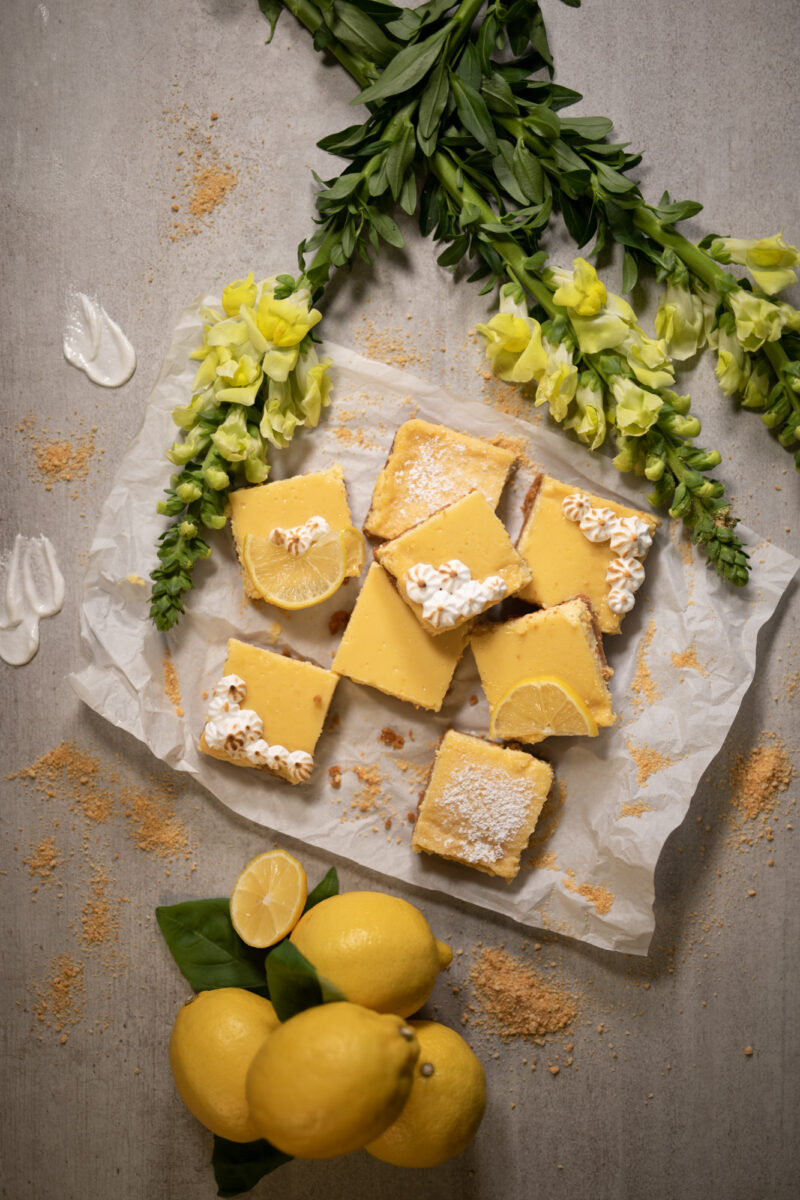 Anticipating that the lockdown was going to persist for a few weeks, we stocked up on lots of lemon (not in the panic buying, hoarding way – but enough to have more than a dozen). You know, for baking cakes, cheesecakes and throwing into you G&T 😉 I wanted to use them to bake something, but did not want all the effort of having to bake and frost a cake.
These lemon squares are relatively easy to throw together and only require little baking time. Thereafter, pop them in the fridge to set and you're done!
I love baking really intricate desserts, but also sometimes want to just throw something together. These lemon squares are perfect for that occasion, no creaming of butter and sugar, or having to sift flour. The mixture comes together in a single bowl.
Not wanting to get more fat on eating all of them by myself, I wrapped some up and responsibly, socially distantly, dropped them in a friend's postbox to collect. Ever since starting this blog, all my friends have been getting a lot more baked goods. I hope they bare with me!
LEMON SQUARES – BASE
125g Tennis Biscuits (or any other biscuit)
2 T sugar
70g butter
*I usually just make the base in a ziploc/resealable plastic bag so that there is one less bowl to wash!
METHOD – BASE
Preheat the oven to 180 degrees celcius. Grease and line the base of a 20cm square tin with baking paper. Let two opposite sides hang over the tin, so there is some grip to lift the squars out, once set.
Place the biscuits into a ziploc bag and crush them with a rolling pin.
Then add in the sugar and shake to combine.
Finally, pour in the melted butter and shake to combine everything together.
Tip the mixture into your baking tin and press flat down.
Bake for 10 minutes to set the crust, then remove from the oven and set aside whilst filling comes together.
LEMON SQUARES – FILLING
385g Nestle condensed milk (one can)
120g sour cream
1 Tbs lemon zest
170ml freshly squeezed lemon juice
4 egg yolks
1/2 tsp vanilla essence
1/8 tsp salt
METHOD – FILLING
Add all of the ingredients into a bowl and beat for five minutes until pale and all combined.
Pour over the base and bake for 15 minutes, until the filling has set.
Then remove and set aside to cool to room temperature, before popping it into the fridge for at least three and a half hours, before cutting into squares and serving.
This can be served plain or with whipped cream.
Recipe by adventureswithsugar.com