There is something really spectacular about cutting into a frosted cake to reveal several different colourful layers of happiness and fun.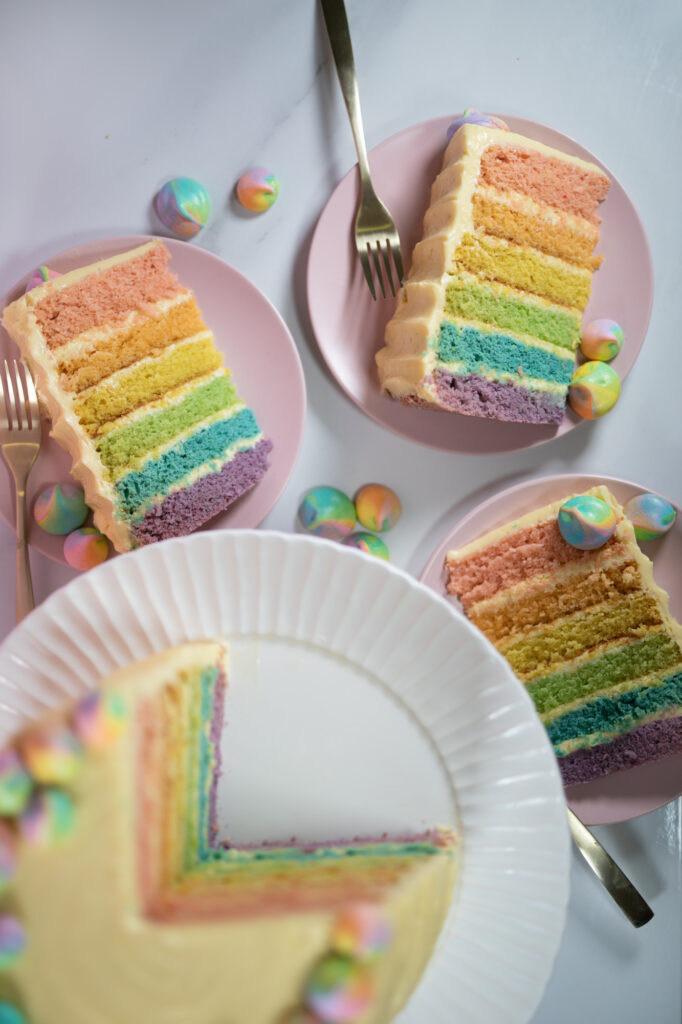 Who doesn't love rainbow cakes?! They look as fabulous as they (should) taste! It was my niece's birthday a few weeks ago and since I could not be there in person, I virtually celebrated by baking this fun cake.
Rainbow cakes are usually simple sponge cakes dyed with different colours sandwiched with layers of buttercream in between. Whilst they are amazing to look at, they can quickly become far too sweet after a few bites. To avoid this, I have reduced the sugar in the cake, used cream cheese frosting in between the layers and frosted the outside with Swiss meringue buttercream (which is still sweet, but less sweet than American buttercream).
As there are at least six layers, you want a cake that is firm enough to stand tall, without the bottom layers being too compressed and unstable. This should not come at the expense of sacrificing on a light and fluffy texture, however – meaning that I had to create a recipe which balances both of there requirements.
Also admittedly, baking this cake does require a bit more patience (though only very moderate skill). I therefore prefer to make cream cheese icing at least a few days in advance and keep it in the fridge. The swiss meringue buttercream needs to be stored at room temperature, so make that no more than two days in advance. The cakes can be made up to four days in advance and frozen. I therefore needed a recipe which was robust enough to still be moist after a few days.
This is as tall a cake, as it is big, so is great for a special occasion when you have to cater for guests. I have added a "tips for construction" at the end of the post, to make sure you get those pretty perfect layers. I hope you enjoy this recipe as much as I do.
I decorated these with the rainbow meringue kisses which I made in a previous post, which may be found here .
If you make this recipe, please share it with me by tagging me on Instagram @adventureswithsugar or on Facebook at Adventures with Sugar.
PS. I have tried these as cupcakes and they are ok, but I am not convinced, so you can use the recipe for cupcakes, but I think it needs more tweaks and modifications which I am working on 🙂
RAINBOW CAKE
The recipe below makes two 20cm cakes which are high enough to be trimmed and leveled to give perfect layers. So to make six layers, you need to make three quantities of the below recipe.
210g cake flour
30g cornflour
1 1/2 tsp baking powder
1 1/2 tsp bicarbonate of soda
1/2 tsp salt
60g butter, melted and slightly cooled
125ml canola oil
350g castor sugar
2 jumbo eggs, at room temperature
1 tsp vanilla essence
125ml full cream milk, at room temperature
125ml full fat buttermilk, at room temperature
pink, orange, yellow, green, blue and purple gel food colouring (I do not like the effect that the liquid food colour gives)
METHOD
Pre-heat your oven to 180 degrees Celcius. Grease and line the bottom and sides of two 20 cm cake tins.
Sift the flour, cornflour, baking powder, bicarbonate of soda and salt into a bowl and set aside.
Place the melted butter, oil and sugar in a bowl and whisk to combine, about a minute (I usually just use a hand whisk).
Then add the eggs and vanilla and whisk again, about a minute.
You want to mix only until incorporated. The more you mix, the more the cake will dome, which you don't want!
Add a third of the flour to the sugar and egg mixture and gently whisk in.
The add the buttermilk.
Add another third of the flour and mix, followed by the milk and finally the last batch of flour.
Divide the batter equally between two bowls and tint the batter with the gel food colours, to your desired colour.
Place into a pre-heated oven to bake for 25 minutes or until a skewer inserted comes out clean.
You want to watch it carefully! Leaving it in for too long will result in browning, which you do not want.
CREAM CHEESE FROSTING
This recipe makes enough to frost in between the layers.
700g cream cheese
300g butter
220g icing sugar, sifted
1tsp vanilla essence
METHOD
Cream the butter until light and airy.
Then add in the icing sugar and beat until combined.
In a separate bowl, beat the cream cheese until smooth.
Then gently fold the cream cheese into the butter and icing sugar mixture.
Beating the cream cheese separately ensures that it is not over beaten, and your icing does not end up being too runny.
WHITE CHOCOLATE SWISS MERINGUE BUTTERCREAM
This takes a bit more effort to make, but is so much smoother and less sweet than the American buttercream. Alternatively, you could frost the outside of the cake with another batch of the cream cheese icing above.
I use a combination of salted and unsalted butter as I find that the buttercream, made only with salted butter can be a bit too salty, some don't mind it however, so it really is your preference.
450g castor sugar
6 large egg whites
250g good quality chocolate
20ml vegetable oil
400g salted butter, at room temperature, cubed and softened
400g unsalted butter, at room temperature, cubed and softened
1 tsp clear vanilla essence (optional)
METHOD
Melt the white chocolate with the oil and set it aside.
Fill the bottom of the saucepan with water and bring to a gentle simmer, not an aggressive boil (or you will have water flying everywhere!).
Place the egg whites and sugar in a bowl that sits over the saucepan, and place it over the hot water.
You want to gently stir this continuously with a whisk to make sure that the eggs do not scramble and that the sugar dissolves, but not so aggressively that you aerate the eggs too much.
Continue to do this until the sugar has dissolved into the egg. Rub a bit of the mixture in between your two fingers and if it is not grainy, the sugar has dissolved.
Transfer this mixture to a stand mixer (or hand mixer, but you will have to be patient!) and continue to whip for around 10 minutes until your meringue is light and fluffy, and cool to the touch.
Then add in the butter, block by block, and whip in, until the buttercream is thick, glossy and velvety.
Add in the vanilla extract if using.
Once the white chocolate is cool to the touch, add that in too and whip until incorporated.
Store the buttercream at room temperature.
TIPS FOR STORAGE
Make the cream cheese icing 5 days in advance and store in the fridge
Bake the cakes four days in advance. Once they are out of the oven and cooled to room temperature, wrap them in clingwrap fully, and store in the freezer.
Do not stack them one atop the other as they are fairly soft cakes, so will compress over time.
Make the Swiss meringue buttercream at least two days before assembling the cake and store at room temperature.
TIPS FOR ASSEMBLY
In order for the perfect colours of the sponge to be seen once the cakes are frozen, I take them out at least a day before and level off the top of the cake, to remove any dome.
I also gently trim around the sides of the cake to remove any browning which may have occured. I use a sharp knife and do it free hand, making sure to cut very little off.
If you are not confident in doing this, use a circle template with a 19.5cm diameter.
Alternatively, if you are not fussed with perfection, like I am, you can leave as is.
I do reccommend cutting off the tops though so the layers are level.
Finally, as this is a tall cake, to make sure it does not lean, insert four skewers into the cake to give it stability and support.
Once your cakes have been layered and filled with the cream cheese icing, put in the fridge for an hour to let it firm up. Then frost the sides with the Swiss Meringue buttercream.
Feel free to DM on Facebook or Instagram should you have any questions.
Recipe by adventureswithsugar.com