This featherlight cake gets dressed up with some sweetened whipped cream and strawberries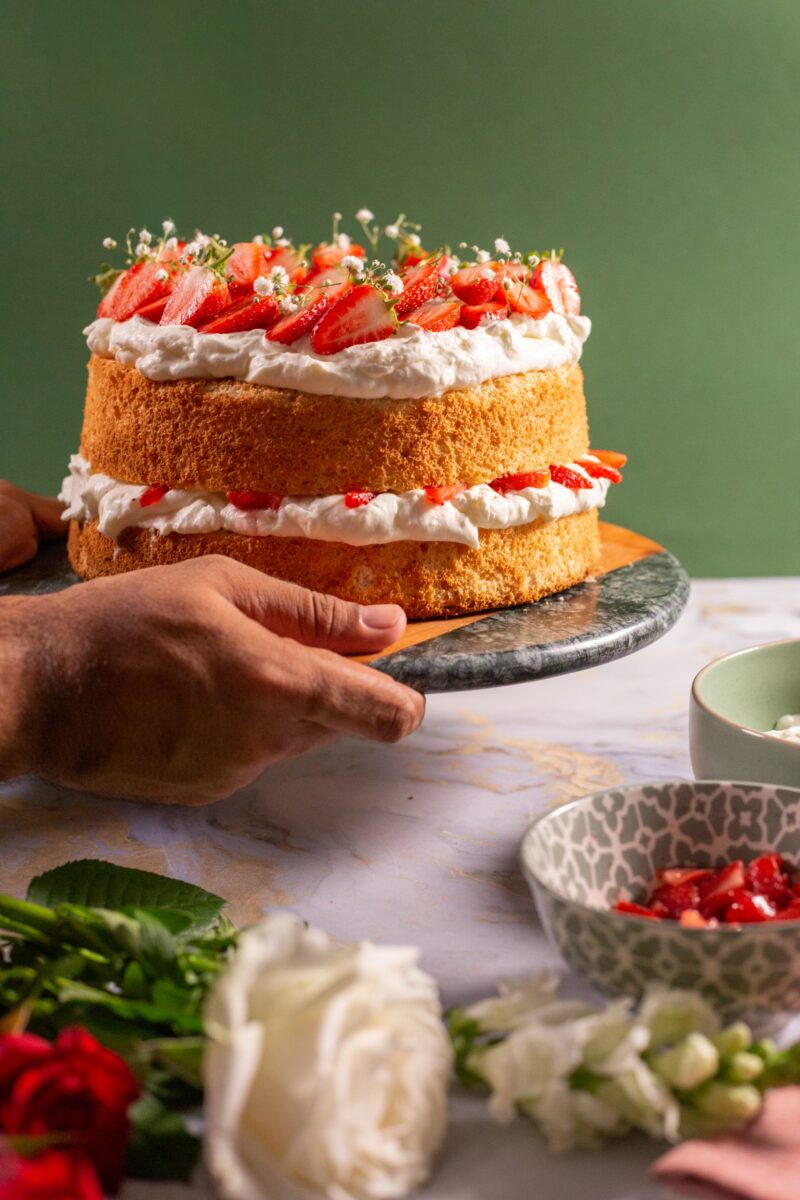 If you make this recipe, please share it with me by tagging me on Instagram @adventureswithsugar or on Facebook at Adventures with Sugar. Please also leave a comment below to let me know how you got on with the recipe.
FOR THE ANGEL FOOD CAKE
120g cake flour
1 tablespoon cornflour
275g caster sugar, divided into two parts
420ml egg whites
1 teaspoon cream of tartar
1/8 teaspoon salt
2 teaspoon vanilla extract
METHOD
Preheat the oven to 180 degrees Celcius. Prepare a 25cm angel food cake tin, by making sure it is free of any grease and oil. Do not grease or line the pan.
Sift the cake flour, cornflour and half of the sugar together three times and set aside.
Place the egg whites, cream of tartar and salt in a bowl with a whisk attachment and beat until soft peaks form.
Then, a tablespoon at a time, begin to add in the sugar. Adding the next table spoon, only when all the sugar has been dissolved. Whip until a stiff meringue has formed.
Add in the vanilla extract and continue to whip.
Sift a quarter of the dry ingredients into the meringue, gently folding by hand to combine. Continue adding the dry ingredients a quarter at a time.
Bake for 30 – 40 minutes, or until a skewer inserted comes out clean.
Immediately invert the cake and let it cool, to prevent the cake from collapsing.
Only remove the cake from the tin once fully cooled.
FOR THE STRAWBERRIES AND CREAM
500g strawberries
500ml whipped cream
4 tablespoons icing sugar
METHOD
Slice 250g of the strawberries into bite size chunks. Sprinkle 2 tablespoons of icing sugar onto them and toss to combine. Set aside.
Whip the cream until soft peaks form, then add in the remaining two tablepoons of icing sugar and whip until stiff peaks.
When the cake has completely cooled, slice it in half.
Spread half of the whipped cream on the bottom layer and spread the chopped strawberries around.
Cover with the top half of the cake and top with whipped cream.
Slice the remaining strawberries in half and use to decorate the cake.
Once iced, keep refrigerated.
Recipe by adventureswithsugar.com