This recipe is a mashup of two parts of other recipes which I have shared earlier, which work like a dream together.
I recently had two of my best friends come over to visit after months of lockdown. It was great to just relax and chat. It is amazing how, with some people, you do not see them for a long time, but are able to pick up where you left off (admittedly, lockdown has meant that all our social lives are less than thriving, so not a whole lot going on).
Where there is a visit from friends however, there is always cake (or some sweet accompaniment). Pavit, requested a spice cake and Rox requested a blueberry cheesecake. As I was pressed for time, I went with the former – Rox did inspire the blueberry cheesecake macarons I created, that is for another post, however.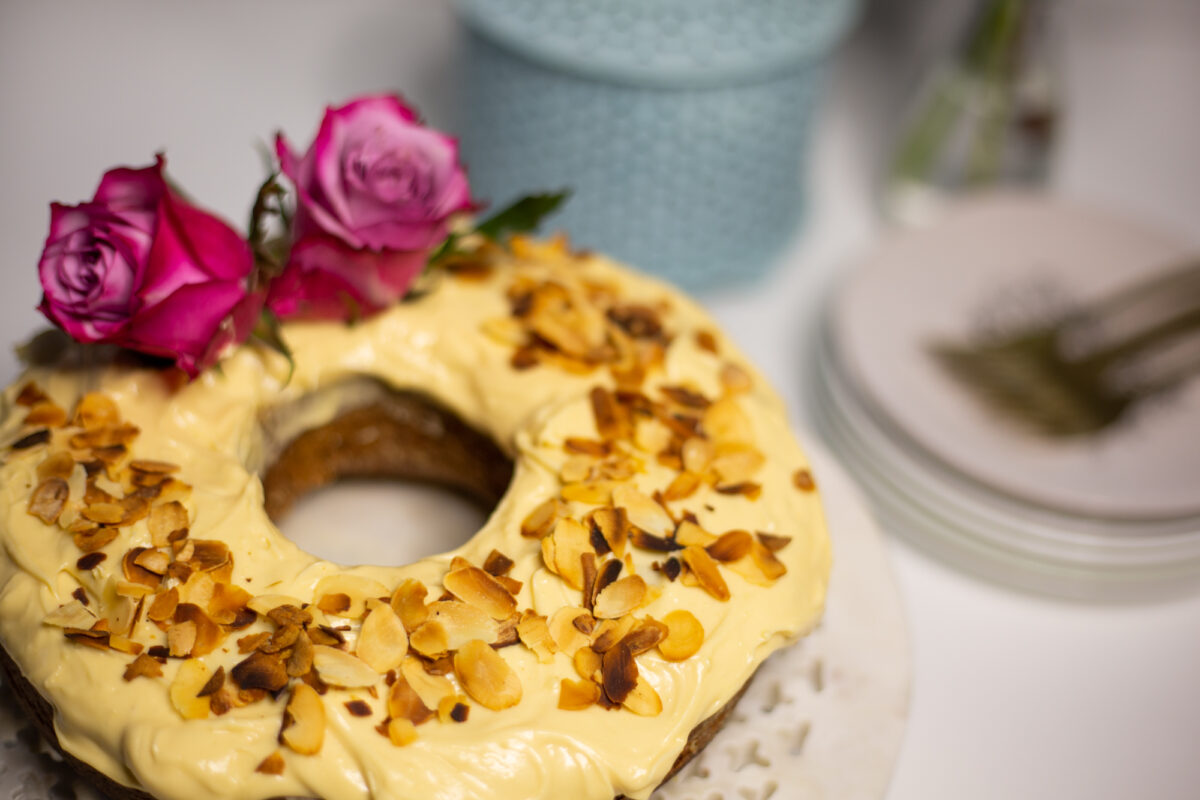 I wanted to make my citrus spice pound cake, but add a frosting to it. One of my favourite frostings is a brown sugar cream cheese frosting which I pair with my apple crumble cake. The tanginess of the cream cheese and depth of flavour of the brown sugar and maple syrup in the icing paired perfectly with the intense spiciness of the cake. As always, I use fresh spices to get the deepest flavours in a cakev – none of the store-bought ground stuff.
The original recipe to the orange spice pound cake can be found here and the recipe for the brown sugar cream cheese can be found here. Just to finish off the cake, I added lightly (and some darkly, as I got distracted) toasted almond flakes, for a bit of texture.
If you make this recipe, please share it with me by tagging me on Instagram @adventureswithsugar or on Facebook at Adventures with Sugar.
ORANGE SPICE POUND CAKE
180g butter, at room temperature
300g muscavado sugar
1 tbs orange zest (around 1 large orange)
3 large eggs, at room temperature
120ml buttermilk, at room temperature
1 tbs vanilla essence
1 1/2 tsp ground cinnamon
1 tsp mixed spice
3/4 tsp ground nutmeg
1/4tsp ground cloves
225g plain flour
3/4 tsp salt
1tsp apple cider vinegar
1/2 tsp bicarbonate of soda
METHOD
Preheat the oven to 180 degrees Celcius. If using a bundt tin, make sure to brush well with melted butter, then sift flour evenly within the tin, tapping out any excess and set in the freezer for 5 minutes (this will help the cake not stick). Alternatively, grease and line a 900g loaf pan or a 20cm round tin.
Sift the flour, cinnamon, nutmeg, mixed spice, cloves and salt into a bowl and set aside.
Place the eggs, buttermilk and vanilla in another bowl and combine. Set aside.
Place the butter, sugar and orange zest in a bowl and with an electric mixer or hand beater, cream the butter and sugar until the mixture is slightly pale.
With the mixture running on low, start by adding the wet ingredients, followed by the dry ingredients. The wet ingredients will have three additions and the dry ingredients two.
Finally, dissolve the bicarbonate of soda into the apple cider vinegar and stir into the batter. The batter may look a bit split, but will bake up fine.
Bake the cake for roughly 40 minutes, or until a skewer inserted into the center comes out clean.
Wait for the cake to cool before inverting out of the tin and frosting.
BROWN SUGAR CREAM CHEESE ICING
100g butter, at room temperature
100g brown sugar
85g maple syrup
220g cream cheese
1/4 tsp vanilla essence
80g flaked almonds
METHOD
Beat the butter until slightly creamed.
Then add the sugar, maple syrup and vanilla essence and continue to beat.
Finally, gradually add in the cream cheese and beat until thick and smooth.
Spread the frosting on top of the cooled cake.
Toast the almonds on medium heat, until lightly browned. Set aside to cool and then add onto the frosting.
Recipe by adventureswithsugar.com