So the name is completely made up! It is my take on the traditional chocoflan with caramel and white chocolate instead
I initially baked this "cake" for International Chocolate Day, but never ended up sharing it for some reason. So here it is now!
A chocoflan, as you can guess, is part chocolate and part flan. This cake is incredibly popular in Mexico. It is also know as the impossible cake due to the fact that the chocolate cake and flan switch layers when baking. This is due to the flan being more dense and setting, whereas the reaction of the bicarbonate of soda and the buttermilk react to create a light cake.
As the cake batter needs to support the weight of the flan, I did not use my usual chocolate cake recipe, but a more steady batter. This produces a more dense and fudgy cake. I thought it would therefore pair well with a decadent chocolate sauce.
The sauce is super easy to make and is my go to recipe when I need to whip up a quick batch.
The recipe is a bit more labour intensive, but is such a showstopper and can be used for a special occasion. If you make this recipe, please share it with me by tagging me on Instagram @adventureswithsugar or on Facebook at Adventures with Sugar.
5 MINUTE CHOCOLATE SAUCE
200g sugar
50g cocoa powder
125ml water
2 tsp vanilla
1/8 tsp fine salt
1 tsp instant coffee granules
2 tsp brandy/rum (optional)
METHOD
Add all ingredients into a pot and cook on medium high heat until the mixture begins to boil.
Reduce the temperature and continue to cook for a further 30 seconds to a minute. The sauce will thicken as it cools.
To make it thicker, cook it for longer.
CARAMEL WHITE CHOCOLATE FLAN
4 large eggs
120g cream cheese, at room temperature
350ml evaporated milk
360g caramel treat (other countries may use dulce de leche)
1 tsp caramel essence (using vanilla essence is fine)
1 tsp vanilla essence
100g white chocolate, melted and cooled
METHOD
Place all the ingredients except the eggs in a blender and beat for 20 seconds.
Add in the eggs and then continue to beat for another 40 seconds.
Set aside whilst you make the chocolate cake.
CHOCOLATE CAKE
100g butter
120g cake flour
30g cornflour
50g cocoa
200g caster sugar
1 tsp bicarbonate of soda
1/2 tsp baking powder
1/2 tsp salt
1 tsp cinnamon
1 large egg
1 tsp vanilla essence
125ml strong coffee
125ml buttermilk
METHOD
Preheat the oven to 180 degrees Celcius. Make sure to grease your bundt tin well, with butter. I also then give it a good spray with cooking spray too.
Put a kettle of water on to boil, you will need this for the water bath.
Sift the flour, cornflour, cocoa, sugar, bicarbonate of soda, baking powder, salt and cinnamon in to a bowl.
Add in your butter and beat until the mixture looks like wet sand.
Combine the coffee, buttermilk, egg and vanilla essence.
Pour half the wet ingredients into the dry ingredients and mix, then add in the remainder of the wet ingredients.
ASSEMBLY AND BAKING OF CAKE
Once your flan and chocolate cake mixtures are made, you are ready to bake them.
Important note: I realised that most standard bundt tins in South Africa are 10 cup tins, whereas this recipe is for a 12 cup tin, so you will want to remove a cup of the flan and a cup of chocolate cake mixture and bake it in three greased ramekins separately.
Making sure your tin is well greased, pour in the chocolate cake mixture and then the flan. It should fill three quarter of the tin.
Cover the top of the bundt tin with foil. to prevent extra browning.
Place the bundt tin in a large roasting tray and place in the oven. Then pour in the boiling water to come up 5cm of the roasting tray.
Bake for around 1 hour 30 minutes to 2 hours. The flan needs to set, so do not be alarmed at the long bake time. Start checking it after 1 hour 30 minutes. a skewer inserted into the cake part should come out clean.
Once baked, remove from the oven and let it come to room temperature.
Then place in the fridge to set for 4 hours, before unmoulding.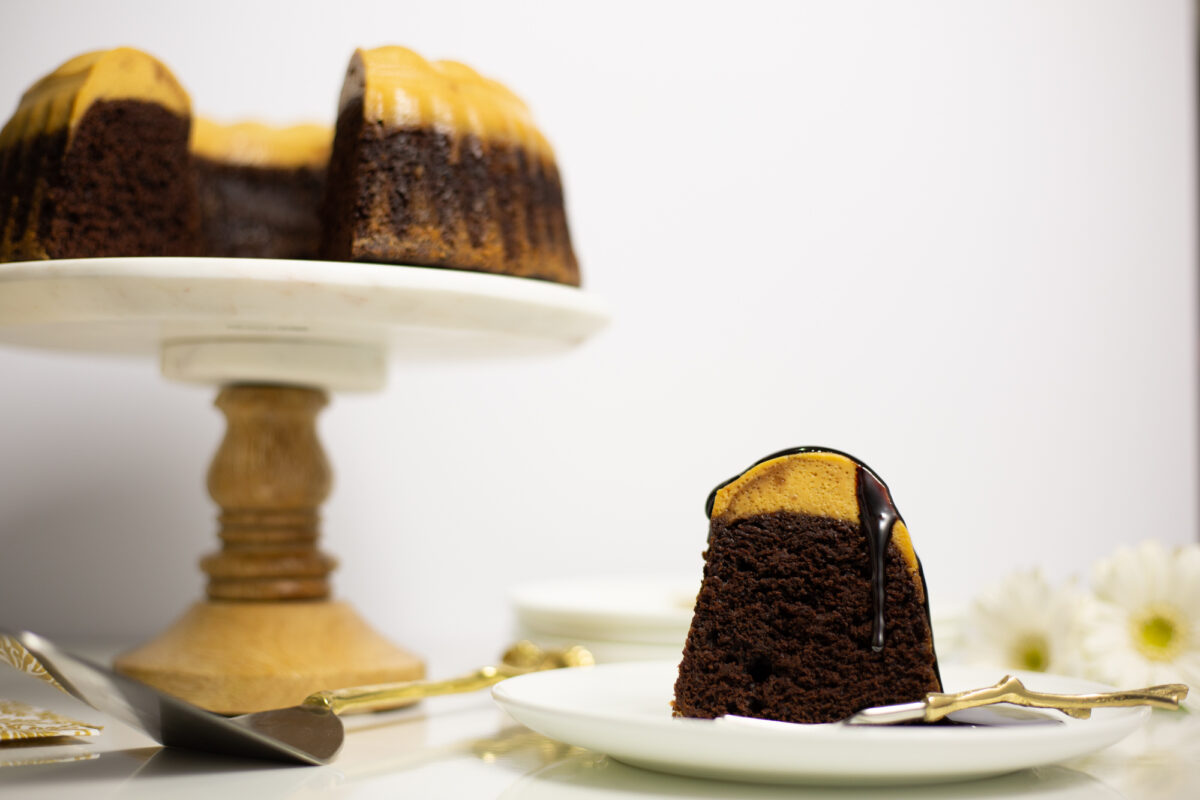 Recipe by adventureswithsugar.com