The most chocolaty cupcake you will ever eat, with chocolate in the cake, the filling and the icing.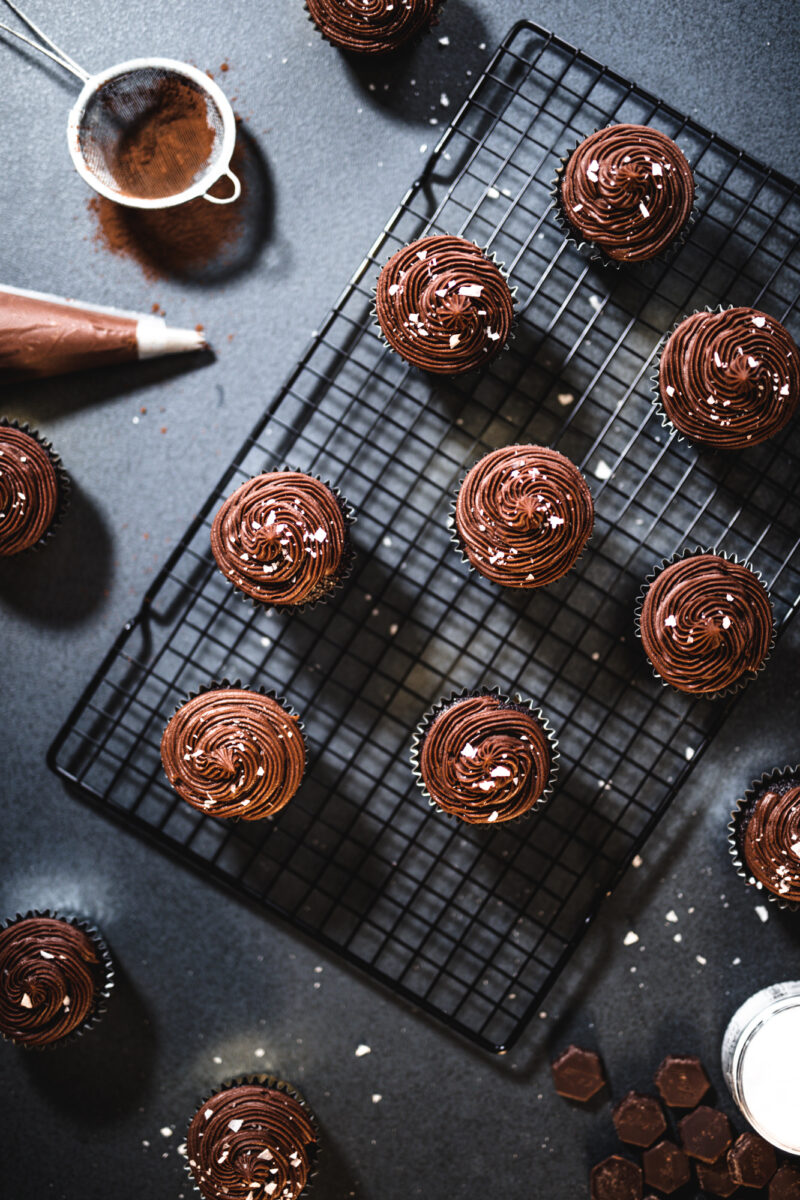 These chocolate cupcakes were one of the first things I created, after my chocolate cake. If I had to single out the one bake which is most loved by all, it are these cupcakes. I recall taking these to the office once, people were literally arguing about who could have the last one!
I initially started with my chocolate cake recipe and tried to bake them in cupcake form. I found that this produced a drier cupcake than I liked. I recall recipe testing these by the dozen, trying different ratios of fat, liquids, eggs. flour. A ton of effort went into creating these cupcakes.
I tried to keep the amount of ingredients to a minimum, but realised that in order to get the correct texture, I required a bit more than the "usual" pantry staples. One thing I will say about the ingredients is that the size of the eggs are crucial! I have tried baking these with large and even extra large eggs, but only jumbo eggs work the best! (I realize that not everyone has jumbo eggs at home, so have included the weight in grams, to make life easier).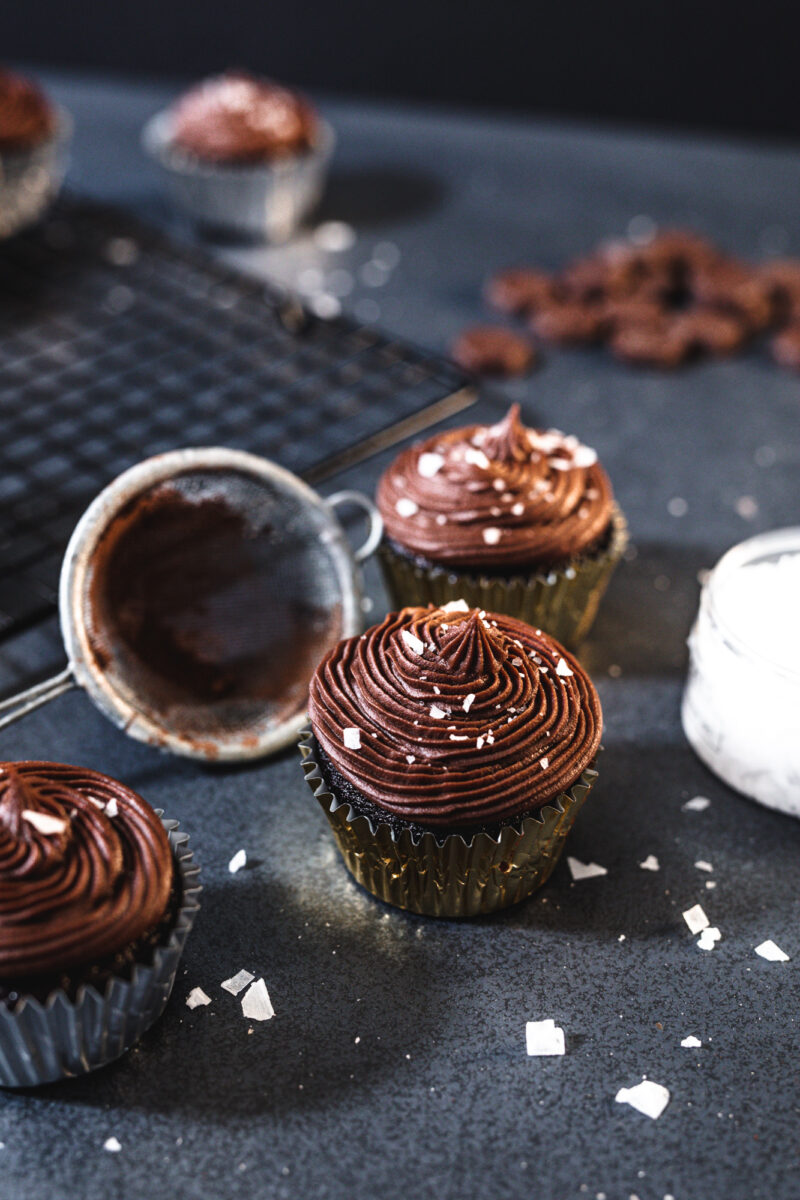 The cupcakes are super moist, without being dense. The chocolate and coffee in the batter just kick the chocolatiness into overdrive! The chocolate ganache further accentuates the chocolatiness. I'm mean, ganache is essentially just chocolate and cream! Finally, I think what surprises everyone is the chocolate mousse filling in the centre – the airy filling with the heavier ganache and the light cupcake all come together perfectly. (PS. I usually buy a good quality chocolate mousse and pipe it in, as a quick hack).
This is one of my more treasured and "patented" recipes, as I have almost created this from scratch. I started baking them whilst I was a student and did not own a kitchen scale. All I had was a set of plastic measuring cups. It is for this reason that I include the recipe in cups below.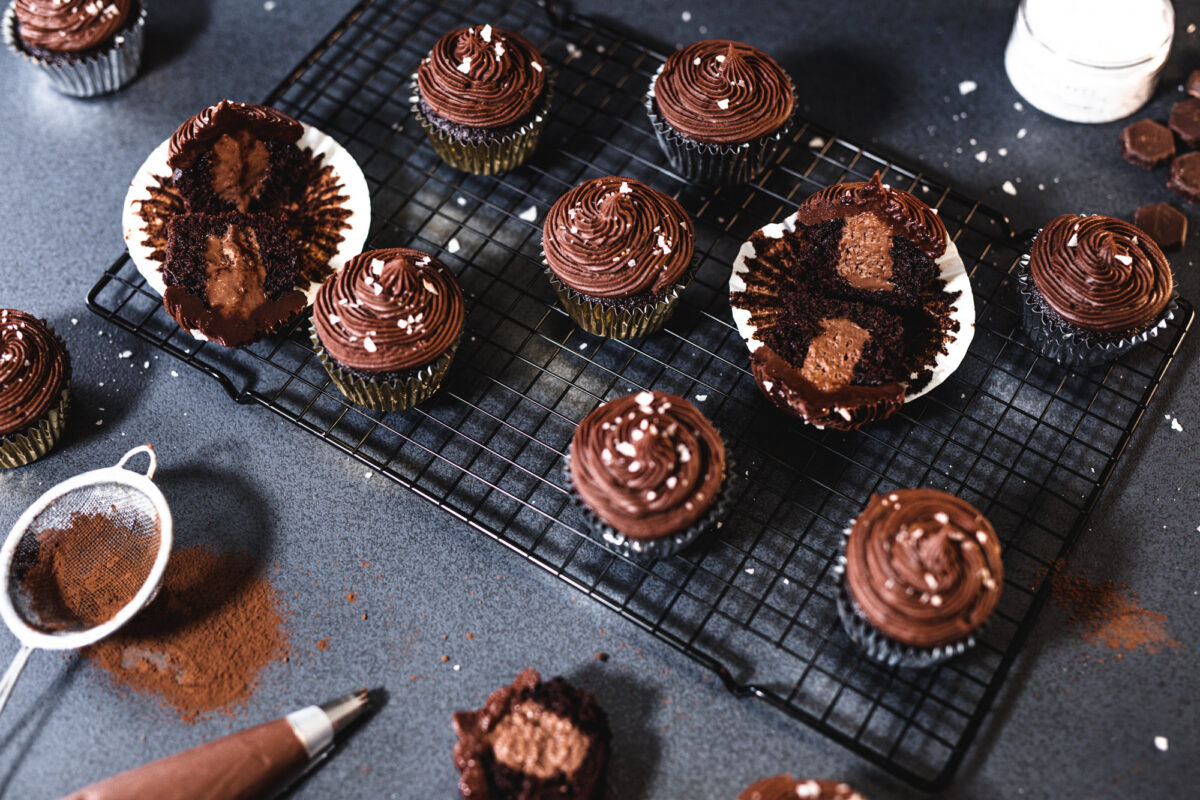 Please, please, please try these out and let me know what you think! If you make this recipe, please share it with me by tagging me on Instagram @adventureswithsugar or on Facebook at Adventures with Sugar.
CHOCOLATE GANACHE
330g milk chocolate
90g dark chocolate.
270ml whipping cream
50g butter
*Make the ganache a couple of hours before the cupcakes, or even the day before and set aside in a cool place. The ganache needs to set before you pipe it, and this takes a few hours, depending on how hot it is.
METHOD
Place the chocolate, cream and butter in a microwave safe bowl and heat.
Start with 30 seconds to get everything heated and nice and melted, then heat in 10 second bursts, stopping to stir and ensuring that the chocolate does not burn.
Once everything is melted and combined, set aside to cool and thicken.
Depending on the length of cooling, you should be able to pipe this, or spread it on top of the cupcake.
CHOCOLATE CUPCAKES (MAKES APPROXIMATELY 24 CUPCAKES)
1 cup strong brewed coffee
80g milk chocolate
60g butter, melted
3/4 cup oil (make sure you fill the cup up right to the top. That's how I make these, at least :))
2 cups castor sugar
2 JUMBO eggs (the weight outside the shell should be around approx 62g each, so aim for 120g to 125g eggs in total)
1 tsp vanilla essence
1 3/4 cup flour
1/4 cup cornflour
3/4 cup cocoa powder
1 1/2 tsp baking powder
1 1/2 tsp bicarbonate of soda
1 tsp salt (salt majorly enhances flavour, don't ignore it!)
1/2 cup buttermilk
1/2 cup full fat yogurt (I usually use a very slightly heaped cup).
METHOD
Preheat the oven to 180 degrees celcius. Line two, twelve cup cucpake tins with cupcake liners.
Add the chocolate to the hot coffee and stir to combine. Set aside.
Sift the flour, cornflour, cocoa powder, baking powder, bicarbonate of soda and salt into a bowl. Set aside.
Place the sugar, melted butter and oil in a bowl and whisk until incorporated. I just do this by hand, no need for a beater.
Then add in the two JUMBO eggs and whisk each one if for 15 – 20 second each. Again, I just use a hand whisk.
Stir in the vanilla.
Add the buttermilk and the yogurt to the slightly cooled coffee and chocolate mixture and stir to combine.
Alternating, add the wet ingredients with the dry ingredients. Start with the flour, followed by the coffee. Then flour, coffee and finally flour.
Bake for around 15 – 18 minutes or until a toothpick inserted comes out clean. Do not overbake them.
CHOCOLATE MOUSSE FILLING
1 litre good quality chocolate mousse.
METHOD
Once the cupcakes have completely cooled, use an apple corer or a cupcake corer to remove the centers. (You can try and scoop it out with a spoon, it just looks less neat).
Fill the centres with the mousse. A piping bag is the easiest to do this.
Pipe swirls of chocolate ganache onto the filled cupcakes.
Recipe by adventureswithsugar.com