This is a take on the traditional tres leches (translated: three milk) cake, adding a bit of spice and warmth with the masala chai brew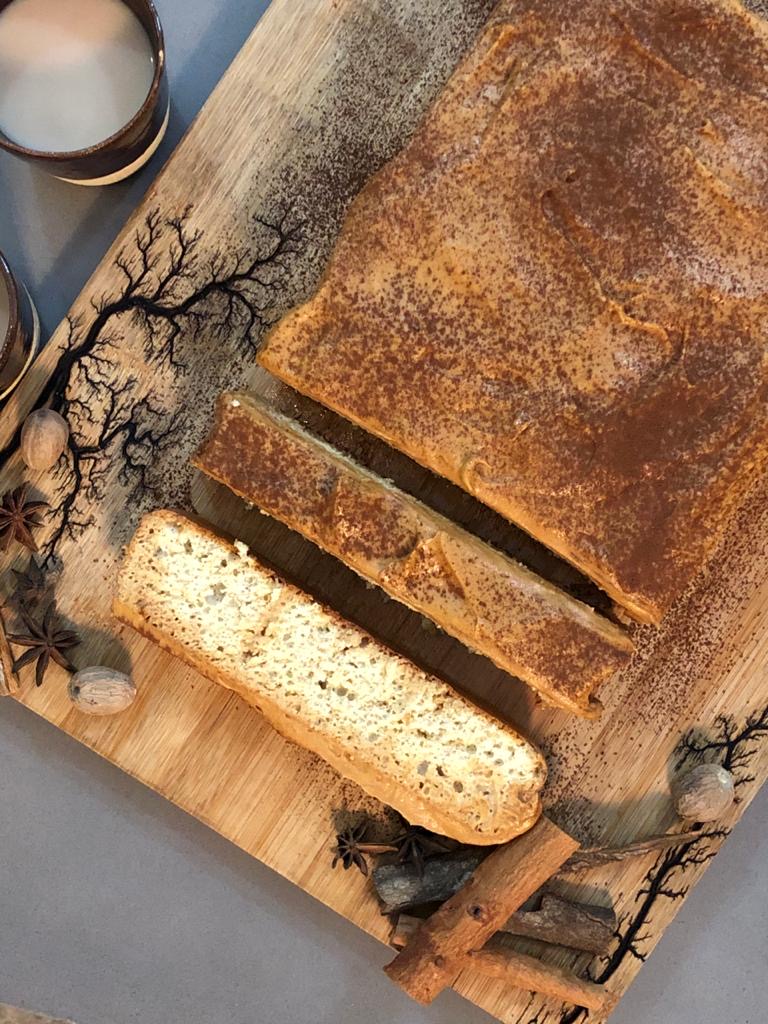 One of my favourite things about travelling is all the different culinary experiences which you get to enjoy. Whilst there have been too many to count on my recent trip to India, a recurrent favourite for me is masala chai. We found an amazing tea shop in Ooty, and brought some home. I wanted to draw out the flavours a bit, so decided to enhance the brew with a few additional spices.
But I did not want to just drink the chai, that would be far too boring! Whilst doing some research for another holiday, Mexico (this was obviously before we were all locked down 🙁 ) I came across a recipe for a tres leches cake. I did not even know this was a thing before then!
Reading through the recipe, I thought it was going to be a soggy mess, but decided to try it anyway, and was glad that I did! It reminds me a bit of a malva pudding, but not quite as sweet. The cake does benefit from a bit of time, so you can make it a day ahead and keep it in the fridge.
I was very doubtful when trying out this tres leches cake as it has no butter or oil in it. It's a sponge cake in the true sense, relying on the air in the whipped eggs to create a spongy texture. It may not seem like it, but the chai brew which gets poured over is absorbed into this cake to make it super moist. It is a bit of effort to make, but I think it's worth it. I hope you enjoy 🙂
Note: I updated this recipe on 24 June 2020 after further testing to ensure the cake was better soaked through and remained super moist. Also, I initially flipped my cake out of the dish as it was not completely submerged in the syrup. I recommend keeping it in the dish so it continues to soak.
MASALA CHAI BREW
210ml full cream milk
2 Ceylon teabags
10 green cardamom pods
2 cinnamon quills
2 star anise
1/8 tsp black peppercorns
¼ tsp cloves
1/4 nutmeg, freshly grated
210g evaporated milk
210g condensed milk
METHOD
1. The milk is best infused a day before and left to steep for a better flavour.
2. Crush the green cardamom pod and the nutmeg.
3. Put all the ingredients into a pot, except for the evaporated and condensed milk.
4. Let it simmer on low-medium heat until the milk begins to bubble, you do not want it to boil.
5. Set aside and let it come to room temperature, then refrigerate with spices, overnight.
6. The next day strain the milk, discard spices and teabags.
7. Stir in the evaporated milk and condensed milk and set aside.
TRES LECHES CAKE
120g plain flour
1 tsp baking powder
1 tsp cinnamon powder
¼ tsp ground cloves
½ tsp nutmeg
1 ½ tsp cardamom powder
¼ tsp salt
5 large eggs at room temperature, yolks and whites separated
200g castor sugar
100ml milk
40g butter, melted
*tip: freshly ground spices product a much stronger flavour profile than store bought
METHOD
Preheat the oven to 180 degrees Celsius. Grease and line, with baking paper, a 30cm * 20cm * 5cm dish.
Sift the flour, baking powder, cinnamon, cloves, nutmeg, cardamom and salt in a bowl and set aside.
Add the vanilla, three quarters of the sugar ( 165g ) and egg yolks to a bowl and whip until the mixture is pale, thickened and doubled in volume.
Combine the melted butter and the milk.
Then alternating, add the milk/butter and the sifted dry ingredients to the egg mixture and gently fold in.
In another bowl, with clean beater attachments, beat the egg whites until soft peaks form, then add in the remaining sugar ( 55g ) and continue to beat until you have a stiff glossy meringue.
A third at a time, fold this meringue into the batter. Be gentle as you do not want to knock out the air in the whipped egg whites.
7. Spoon this batter into the prepared dish and bake for 35 min, or until a skewer inserted into the cake comes out clean.
8. Allow the cake to cool for 30 min, then with the back of a skewer, poke many holes in the cake. You want to use the back so that the holes are big enough for the mixture to seep in.
9. Pour the chai brew (which has now been mixed with the evaporated milk and condensed milk) over the entire cake so that it is easily absorbed.
10. This step is important! Don't be impatient like me and cut into the cake too soon. You want the cake to sit in the fridge, cling-wrapped, for at least 4 hours to allow the chai mixture to really soak through.
Recipe by adventureswithsugar.com