A decadently moist chocolate cake with a silky buttercream, sweet caramel and plump figs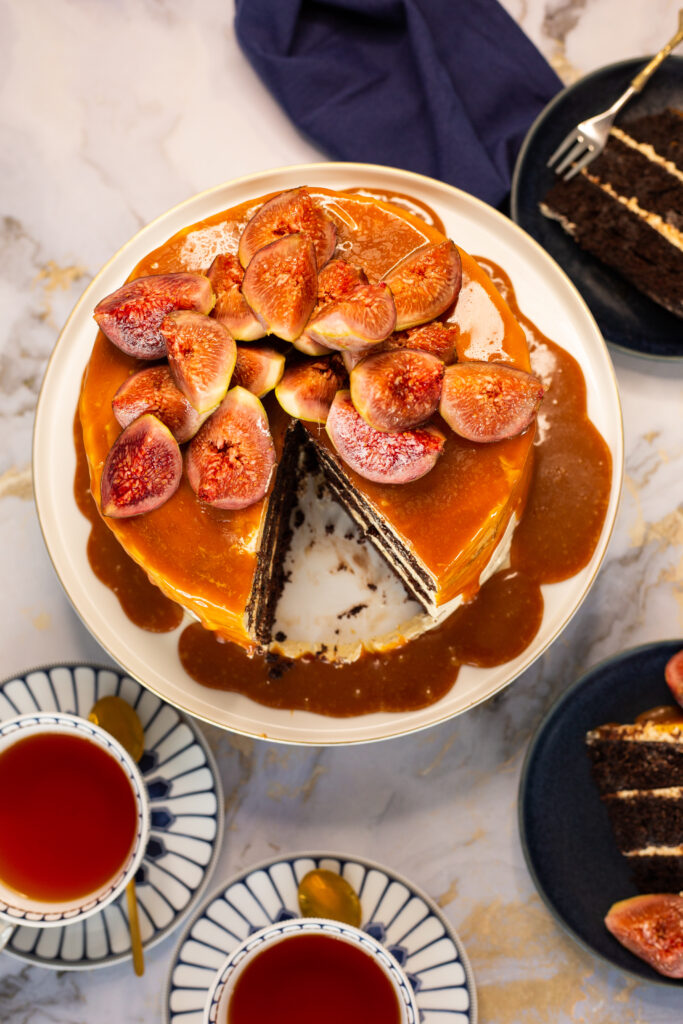 So, what makes a devil's food cake a devil's food cake? Well, if it being rich, dark and slightly sinful was not enough, the moist tender crumb of the cake will transport you to well …. not to heaven ;). Unlike other more conventional chocolate cakes which use actual chocolates and have a fudgy, dense crumb this devil's food cake has no actual chocolate. Instead, it derives its chocolatiness from a generous amount of cocoa in the batter. If you want a more traditional mud cake, this one is a real winner. The crumb is way more dense and fudgy.
I had some hazelnut praline at home from a previous recipe, and decided to blitz it up and add it to a traditional swiss meringue buttercream for something a bit different. The silkiness of the buttercream pairs well with the moistness of the cake. To complement the sweetness, I topped the cake off with some fresh figs from Babylonstoren and a caramel sauce (which was admittedly slightly too runny, but still delicious).
WHAT YOU NEED TO MAKE THIS DEVIL FOOD CAKE WITH HAZELNUT BUTTERCREAM, CARAMEL AND FIGS
Cake Flour – using cake wheat flour (or all purpose flour, as it is called overseas) gives this cake its wonderful crumb. Do not use brown flour or bread flour as the gluten content is different and will likely lead to a tougher crumb.
Sugar – using brown sugar adds to the soft crumb of this cake and adds some extra moistness. Castor sugar is necessary for the swiss meringue buttercream, to ensure the cake is not grainy.
Cocoa Powder – use a good quality cocoa powder for the best depth of chocolatiness.
Leaveners – the cake relies on bicarbonate of soda for its rise, particularly as the latter reacts with the buttermilk in the recipe.
Flavourings – salt and vanilla add flavourings to the cake.
Coffee – instant coffee is fine. You do not taste the coffee in the cake, but it does enhance the depth of chocolate flavour. I use about one tablespoon of coffee.
Eggs – the size of the eggs are important to the structure of the cake. The cake requires two jumbo eggs, but you can also use three large eggs too. You will also need egg whites for the frosting. To separate the egg yolks from the egg whites, its best to have the eggs chilled – but you do not want to bake with cold eggs.
Buttermilk – make sure to use a full fat buttermilk. The higher fat content adds to the moistness of the cake and reacts with the bicarbonate of soda to create a moist crumb.
Butter – the butter is only used for the frosting. Many people prefer using unsalted butter as they believe that they can then control the salt content, but I do not bother.
Oil – use a flavourless, neutral-flavoured oil such as sunflower.
Figs – use the freshest figs you can find, when they are in season.
WHAT SHOULD I KNOW BEFORE MAKING THIS DEVIL'S FOOD CAKE WITH HAZELNUT BUTTERCREAM, CARAMEL AND FIGS
Can I make this cake in advance? You can make the cake up to two months in advance – tightly cling wrap and freeze the cake.
Make sure that all your ingredients are at room temperature. This is particularly important when making your icing, otherwise your butter will not incorporate into the icing.
How do I know when my cake is done? Everyone's oven is different and the below is just a guide. It is best to invest in an oven thermometer, so that you can know the exact temperature. Monitor the cake regularly to ensure that the top is not getting too dark, the cake is not wobbly or liquid like and a toothpick/skewer inserted comes out clean (no batter on it).
How do I store leftovers? The unfrosted cake can remain out of the fridge for a day, but make sure it is well covered in cling wrap. The frosted cake would need to be refrigerated and will last for around 4 days.
OTHER RECIPES SIMILAR TO THIS DEVIL'S FOOD CAKE WITH HAZELNUT BUTTERCREAM, CARAMEL AND FIGS
If you make this recipe, please share it with me by tagging me on Instagram @adventureswithsugar or on Facebook at Adventures with Sugar. Please also leave a comment below to let me know how you got on with the recipe.
DEVIL'S FOOD CAKE
280g cake flour
400g brown sugar
50g cocoa powder
1 1/4 teaspoon baking soda
1 teaspoon salt
2 teaspoons vanilla
300ml hot coffee
240ml buttermilk
125ml sunflower oil
METHOD
Preheat the oven to 180 degrees celcius. Grease and line three 20cm round cake tins, with baking paper.
Add the cake flour, sugar, cocoa powder, baking soda and salt into the bowl.
Mix the coffee, buttermilk, oil and vanilla essence and eggs together.
Add a third of the wet ingredients to the dry ingredients and mix, then add the remaining wet ingredients in two batches.
Divide the cake into three tins and bake for 30 minutes, or until a skewer inserted comes out clean.
Let the cakes cool for 10 minutes, before removing from the tin. Let cool completely before frosting.
HAZELNUT BUTTERCREAM
100g caster sugar
135g hazelnuts
5 egg whites
300g caster sugar
1 teaspoon vanilla
450g butter
METHOD
Heat 100g of sugar in a pot until the sugar melts and turns into a light caramel colour. Throw in the hazelnuts.
Tip out onto a baking tray, lined with baking paper to harden into a set caramel. Then break the praline into shards and blitz in a food processor until it rezembles a smooth paste. If it is turning into a powder more than a paste, gently stream in a teaspoon of vegetable oil to try and bring it together. Set aside.
For the swiss meringue buttercream, place the egg whites and sugar into a heatproof bowl. Place this over a pot of gently simmering water, stirring the mixture constantly so that the sugar dissolves. But you do not want to aggressively mix the egg mixture.
Once the sugar has dissolved (you can tell this by taking a bit of the mixture and rubbing it between your fingers, there should be no grainy sugar), place the egg mixture into a bowl with the whisk attachment and whisk for about 15 minutes, or until the bowl is cool to the touch. If still warm, it will melt the butter and will turn into a soupy mess.
Once the mixture is sufficiently cool and the meringue is looking glossy and voluminous, begin to add the butter a little at a time – still whisking the mixture. Initially, it may look like the meringue is deflating and will look a bit runny, but continue and it will come together.
Once you have a stiff, stable swiss meringue buttercream, add about half the praline paste to the buttercream to flavour it.
TO FINISH
A batch of caramel sauce
100g fresh figs
METHOD
Use the buttercream to frost the cooled cakes, both inbetween the layers and around the cake.
You can heat the caramel sauce ever so slightly to make it a bit runny, but beware of heating it too much in case it gets too runny (like I did). A few seconds is all it needs.
Pour this on top of the cake and garnish with fresh figs.
Recipe by adventureswithsugar.com