This classic bake gets a gluten free twist and a glaze added to it, to amp up the lemony flavour.
Lemon and poppyseed cake has to be up there with one of my favourite cakes. As a student, I would always go to the local student restaurant, Cocoa Wah Wah for a slice of indulgence during exam study breaks. They had the most incredibly moist lemon and poppyseed layer cake with a white chocolate icing. Sadly, the restaurant closed down last year during lockdown, which has left me craving lemon and poppyseed cake, from which I could not get my usual fix.
Linsen's parents were visiting us recently and it was lovely to have more people in the house to bake for. His dad is gluten intolerant however, so I had to play around with some gluten-free bakes.
I have experimented a great deal with gluten-free flour and thus far, am yet to find a recipe of which I am a fan. I have therefore stuck to using almond flour here, which I find makes a wonderful loaf.
The cake does not need any help in terms of moistness, so the lemon glaze is purely for aesthetics and to boost the lemony flavour of the loaf. If preferred however, it can be left out.
I have developed this recipe from one of my favourite go-to, gluten free recipes by Belinda Jeffery. The original recipe may be found here.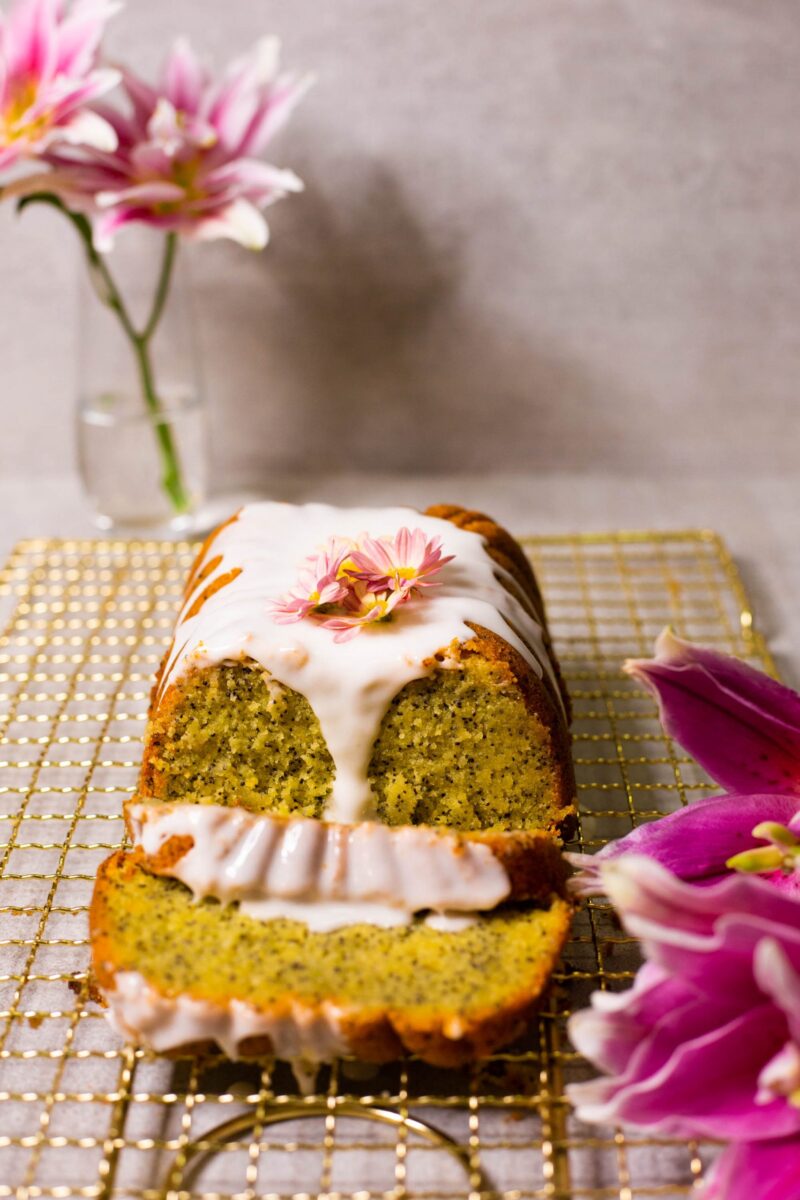 TIPS FOR MAKING THIS LEMON AND POPPYSEED LOAF
How do I line a Nordicware loaf tin? I am obsessed with these beautiful Nordicware loaf tins which are now available in South Africa. You cannot follow the conventional method of lining it with baking paper lest you will not get the beautiful fluted design. What I do is brush the tin will with melted butter, then sift some flour over the tin to thoroughly coat, tapping out the excess. When the cake comes out of the oven, let it cool for about 10 minutes, and then turn it out. Do not leave it for longer, or the sugar will crystalize and stick to the tin.
How do I line my ordinary loaf tin? Here, I just grease the tin with butter and line it with baking paper. Leave a bit of baking paper hanging over the length of the tin, so that the lemon and poppyseed loaf is easy to lift out. Let the cake cool in the tin for 30 minutes, before lifting out and transferring to a cooling rack to cool completely.
Can I use gluten-free flour instead of almond flour? I tried substituting the two, in equal quantities and the recipe did not work. I do not have a great deal of experience with gluten-free flour, so not sure as to how the ratios should change.
What happens if my batter curdles? This will most likely happen when adding the eggs. It is important to add in one egg at a time, and let it mix in well before adding the next egg. If it curdles however, simply continue with the recipe as is, it will fix itself.
What to do if I make my lemon glaze too runny? A lemon glaze is simply icing sugar with lemon juice added to it. I suggest adding a tablespoon of lemon juice at a time to ensure your glaze is not too runny. If you have taken it too far and the glaze is too runny, add more icing sugar gradually. To test how the glaze drips, drizzle a bit down the side of the bowl. You do not want it to run down immediately. I tend to err on the side of caution and make the glaze slightly thicker, you can then coax it down with a spoon and let gravity help you 🙂
My cake is getting too brown on the top but not baked through yet. Oven temperatures vary greatly. When I set my oven to 180 degrees, an oven themometer reveals that it is actually heating to 200 degrees celcius. It is therefore important to know the true internal oven temperature. If the cake is getting too brown on the top without being baked, cover the top with a piece of foil to prevent it from browning.
If you make this recipe, please share it with me by tagging me on Instagram @adventureswithsugar or on Facebook at Adventures with Sugar. Please also leave a comment below to let me know how you got on with the recipe.
FOR THE LEMON AND POPPYSEED LOAF
180g salted butter, room temperature
220g caster sugar
1 tablespoon lemon zest
1/2 teaspoon vanilla essence
4 large eggs
30ml lemon juice
1/4 tsp salt
240g almond flour
3 tablespoons poppyseeds
METHOD
Preheat the oven to 180 degrees celcius. Grease and line a 900g loaf tin with baking paper.
Cream the butter, sugar and lemon zest until pale and fluffy, about five minutes.
Add in the eggs one at a time, beating until well incorporated. Only add the next egg once the current one is well incorporated.
Add in the vanilla essence, lemon juice, salt, almond flour and poppyseeds and fold through until well combined.
Bake for 40 – 45 minutes, or until a skewer inserted comes out clean.
Let the cake cool in the tin for 30 minutes, before removing from the tin and leaving to cool completely. (If you are using a Nordicware loaf tin, as I have, then you would not have lined the tin with baking paper, lest you would not get the pretty fluted design. In this instance, you want to remove the cake from the tin after 10 minutes. Too soon and the cake will fall apart, but leave it in too long and the sugar will crystalize and cause the cake to stick).
FOR THE GLAZE
120g icing sugar
30 – 40 ml lemon juice
METHOD
Place the icing sugar into a bowl and add 30ml of lemon juice initially. If the glaze feels too thick, add a bit more lemon juice.
You want it to be thicker than you think, so that it drips down prettily off the sides, without just running down and looking messy. Often, there is a temptation to think that the glaze is too thick and add more liquid, resulting in the glaze becoming too thin.
Spoon the glaze over the cooled cake.
Recipe by adventureswithsugar.com