A slight twist on the traditional Malva Pudding to add all the festive feels.
Malva pudding is a staple at any dessert table, and I have made it a tad bit more festive by converting it into a gingerbread pudding. For those who are not familiar, malva pudding, it is a sweet caramel like sponge doused in a rich, buttery caramel sauce. My original recipe can be found here.
It is summer here in Cape Town, so warm desserts are not always at the top of the list. This gingerbread pudding has some warmth with the spices, but is balanced out perfectly with a scoop of vanilla ice cream.
To make it even more impressive, I baked it in a bundt tin, which adds such a wow factor to the presentation. It will definitely leave your guests coming back for second helpings.
If you make this recipe, please share it with me by tagging me on Instagram @adventureswithsugar or on Facebook at Adventures with Sugar.
WHAT SHOULD I KNOW ABOUT MAKING THIS RECIPE?
Malva puddings are not typically baked in a bundt tin, why change that? I feel that baking it in a bundt tin makes it more festive. It also allows me to control the amount of soaking sauce into the pudding, so it does not become too soaked. I can then serve the remaining sauce on the side.
Also, I hate bundt tins because they always stick! Preparing a bundt tin is very important. Firstly, brush liberally with melted butter, getting it into all the corners especially. Then dust well with cocoa powder, until the entire tin is coated. Flip the tin over and tap out the excess cocoa powder. Set in the fridge for 5 minutes to set the cocoa.
I cannot find molasses anywhere? Substitute this with an extra Tablespooon of sugar, though some of the treacly taste of the pudding will be lost.
I do not want to use alcohol in the recipe, substitute? Substitute out the alcohol, in the sauce, with water.
Are there any differences in baking in it in a bundt tin vs 20cm baking dish? Yes, there is! The bake times and the oven temperature vary. To begin, the recipe given below is for a 20cm baking dish. If you want to bake it in a bundt tin like I have done, double the recipe. For a bundt tin, bake it for 40 minutes at 170 degrees Celcius.
GINGERBREAD PUDDING (This recipe is suitable for a 20cm square tin)
100g butter, room temperature
70g brown sugar
1 Tbs golden syrup
1 Tbs molasses
2 large eggs
150g cake flour
1 Tbs cocoa
1 Tbs ginger powder
1 tsp all spice
190ml full cream milk
1tsp bicarbonate of soda
1tsp vinegar
METHOD
Preheat the oven to 180 degrees Celcius. Grease a 20cm square baking dish with some cooking spray and set aside. If you want to use a bundt tin, you need to double the quantity above and bake it at 170 degrees Celcius.
Cream the butter and brown sugar until light and fluffy – approximately 5 minutes.
Then add in the molasses and golden syrup and continue to cream.
Add the eggs, one at a time, and mix until well incorporated. This will ensure that the mixture does not curdle.
Sift the flour, cocoa powder, ginger powder and all spice together.
Alternate adding the flour and the milk mixture, beginning with the flour.
Finally, mix the bicarbonate of soda and vinegar together, let fizzle and then add to the mixture.
Bake for about 30 minutes, or until a toothpick inserted into the pudding comes out clean. If baking in a bundt tin, you will have to bake it for closer to 40 minutes.
SAUCE
100g caster sugar
60g butter
30ml water
30ml brandy
125ml evaporated milk/fresh cream
METHOD
When the pudding is at the halfway mark, place all the ingredients in a medium size saucepan and heat on medium heat until the mixture comes to a boil.
When the pudding comes out of the oven, pour over the sauce immediately.
If using a bundt tin, wait for 10 minutes before turning out the pudding. Then pour over half the sauce onto the pudding and serve the remaining sauce on the side.
Serve the pudding whilst warm, with vanilla ice cream.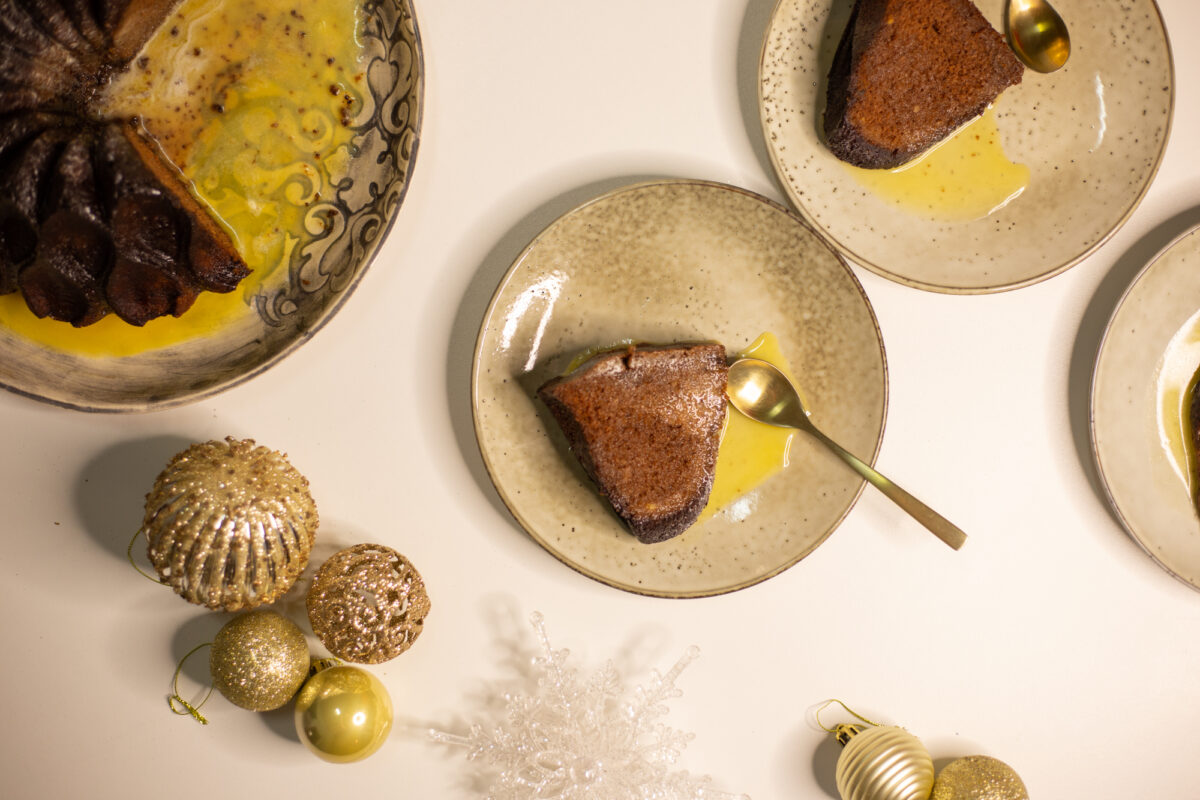 Recipe by adventureswithsugar.com