A luxurious fruit cake, packed with lots of fruit and nuts and doused with a good dose of brandy
I have not had much time to bake in the last few weeks, with the implication that my Festive Baking is very delayed. Nevertheless, better late than never.
This luxury fruit cake soaks the fruit a few days in advance, so thankfully still packs that boozy flavour without needing to feed it for months in advance.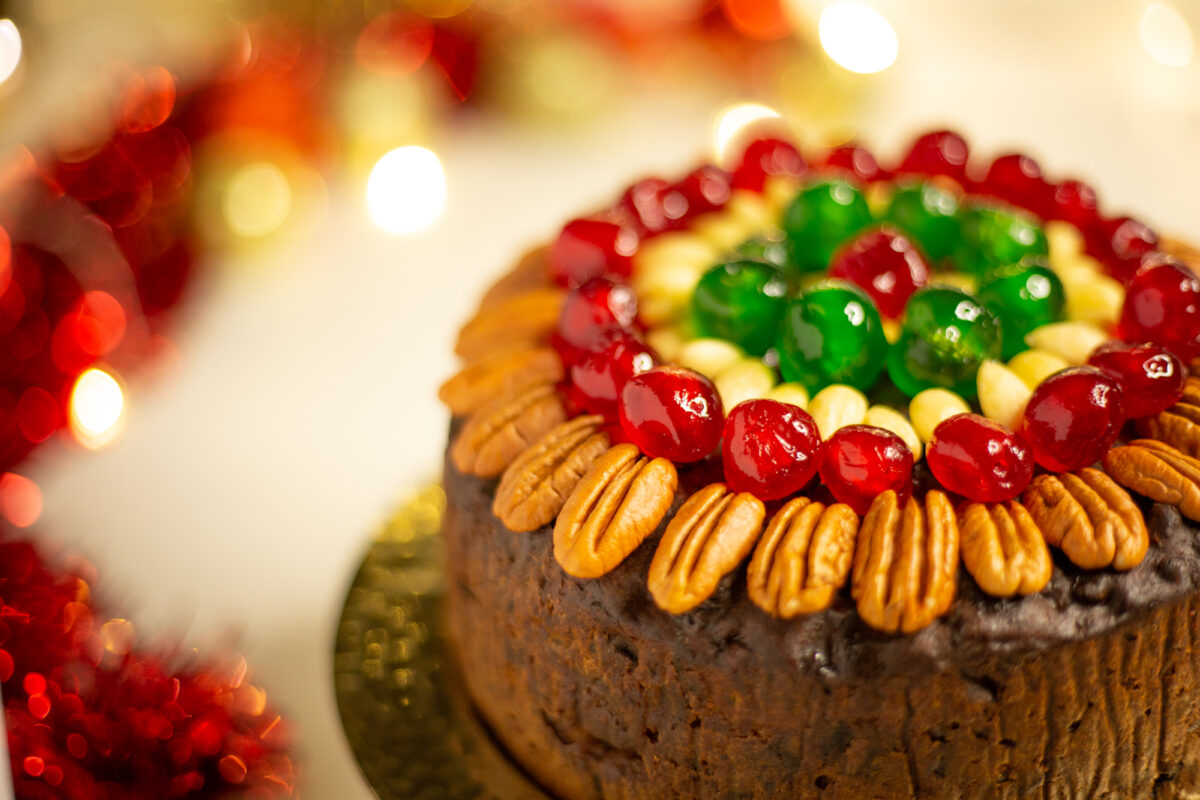 If you make this recipe, please share it with me by tagging me on Instagram @adventureswithsugar or on Facebook at Adventures with Sugar.
WHAT DO YOU NEED TO KNOW ABOUT MAKING THIS RECIPE?
Can I change the fruit mix to suit my taste? Yes, you can easily swap out some raisins for cranberries or currants or dried figs … the list is endless. Just ensure that the total weight of fruits you use remain the same. Do not omit the dates and prunes however, as they also contribute to the moisture of the cake.
What can I use instead of alcohol? I always like using orange or cranberry juice, to soak my fruit, if I do not use alcohol.
Why is lining the tin such a schlep? Lining the tin is a bit of a laborious step but necessary, as this is a slow bake. There is a risk that the cake can get too dark otherwise.
How should I store the cake? Once the cake has cooled out of the oven, wrap it in clingfilm and then in foil and store in a cool dry place.
How long does the cake last for? The cake will last for a month, stored in a cool dry place and fed regularly with brandy.
FRUIT MIX
200g raisins
100g mixed peel
250g sultanas
50g cranberries
80g prunes
50g dates
120g glace cherries, whole
1 tsp lemon zest
1tsp orange zest
75g golden syrup
75ml brandy/rum
*you may use any fruit mix that you like, so long as it adds up to 850g.
METHOD
Place all the fruit in a bowl.
Add in the zests, golden syrup and brandy/rum.
Leave to soak overnight, if not longer.
FRUIT CAKE
3 large eggs
70g molasses/treacle sugar
50g light brown sugar
20g golden syrup
2 tsp almond extract
1tsp vanilla extract
190g butter
60g ground almonds
135g plain flour
1 1/2 tsp ground cinnamon
1/4 tsp ground cloves
1/4 tsp ground nutmeg
1/4 tsp salt
1 tsp bicarbonate of soda
150g pecan nuts/ walnuts
100g flaked almonds
30ml brandy, for brushing
METHOD
Preheat the oven to 140 degrees Celcius. Grease and line, both the base and the sides of a 20cm round baking tin, with two layers of baking paper. Wrap the outside of the tin with two layers of newspaper. Holding the newspaper in place with a string.
By hand, whisk the sugar, golden syrup, vanilla extract, almond extract and eggs in a bowl until it is well incorporated.
Cream the butter and ground almonds, until it is well combined, but not too aerated.
Slowly pour in the egg and sugar mixture until an emulsion forms. Do not be too alarmed if the mixture curdles, it will come together in the end.
Add in the dry ingredients and fold to combine.
Add in the soaked fruit and the nuts and fold to combine.
Place into your lined baking tin and bake around 2 hours, or until a skewer inserted comes out clean.
If the top is getting too dark, cover the cake with some foil to prevent too much browning on the top.
Once the cake comes out of the oven, brush the brandy over the cake and let it soak in.
Wrap in clingfilm and then in foil and store in a cool dry place, feeding the cake weekly with 2 tablespoons of brandy, if you are making it in advance.
Recipe by adventureswithsugar.com