This is a simple carrot cake – no frills, no pineapple – that really lets the flavour of the spices come through.
Making a carrot cake is easy, but making a really good carrot cake is much more challenging! Over the years, I have made countless carrot cakes – ones with raisins, pineapple, coconut, banana … you name it, I tried it! None which I have considered successful.
With this cake, I have cut back on all the additions and stuck to simply carrots. Even with that, finding the right amount of carrot to include took some testing; but I think I have finally nailed it – for now (I like to revisit my recipes over time to figure out how I can improve on them).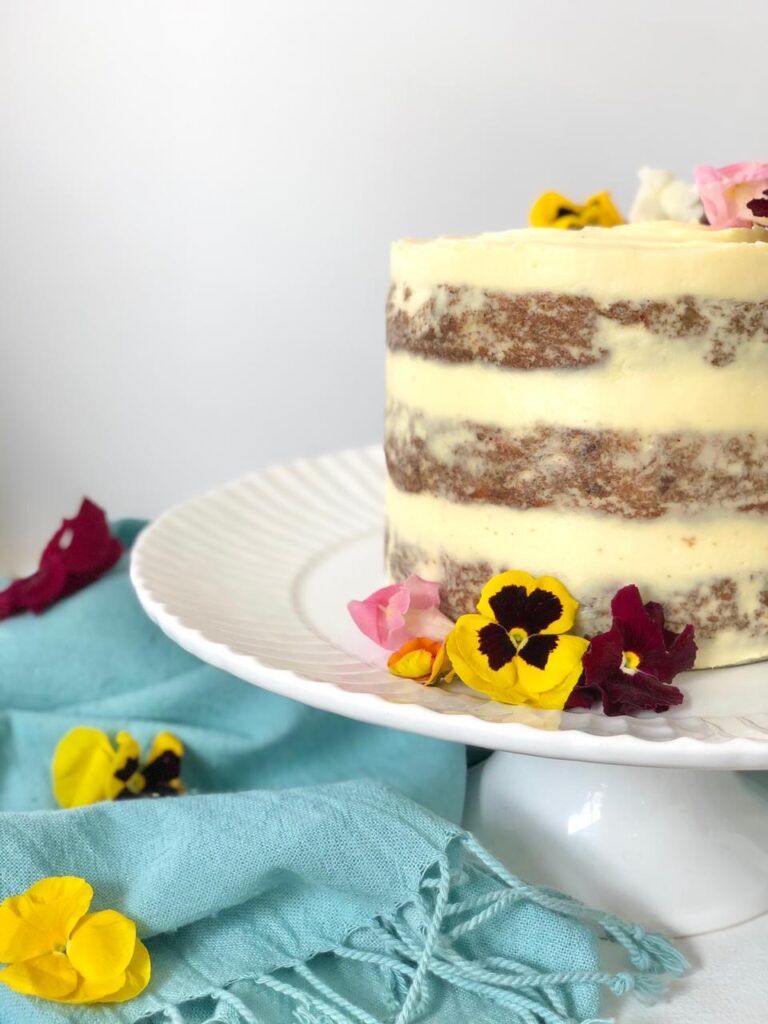 Given how simple this cake is, the right balance of spices is essential to ensure that the flavour profile comes across as more than just being generically sweet. Although a bit of effort, grinding your spices fresh produces a much more powerful flavour. Pre-ground spices work too, they're just not as impactful. The spices only affect the flavour, not the structure of the cake, so you can adapt the quantities to suit your palate.
A carrot cake isn't a carrot cake without cream cheese icing. The tang from the icing is the perfect complement to the sweetness and spiciness of the cake. Cream cheese icing can be quite runny, especially if the cream cheese is over-beaten. I therefore prefer to whip it first, in a separate bowl, and fold it into the butter, icing sugar and honey at the end. The addition of honey adds a lovely natural sweetness, but ensures that the tang of the cream cheese is not lost.
CARROT CAKE
3 large eggs
125g castor sugar
100g brown sugar
1 tsp vanilla essence
280ml sunflower oil
190g cake flour
3 tsp cinnamon
1 tsp mixed spice
1 tsp nutmeg
½ tsp cloves
1 ½ tsp baking powder
1 ½ tsp bicarbonate of soda
¾ tsp salt
300g carrots, peeled and coarsely grated
100g pecans/walnuts, toasted and chopped
Tip: freshly ground spices produce a much stronger flavour profile than store bought. If you are using freshly ground spices, you may want to reduce the cinnamon measurement to 1 ½ tsp. Also, this is a spicy carrot cake – if you want a less spicy one, reduce the cinnamon, cloves and nutmeg
METHOD
Preheat the oven to 180° Celsius. Grease and line, with baking paper, two 20cm cake tins (I used three 18cm cake tins, but the standard size is usually 20cm).
Optional Step: Toast the pecans/walnuts for 8min.
Sift the flour, baking powder, baking soda, cinnamon, cloves, nutmeg, allspice and salt in a bowl and set aside.
Add the eggs, sugar and vanilla into a bowl and beat for around 2 minutes until slightly thickened.
Whilst beating, slowly pour in the oil and beat until well combined.
Add the sifted ingredients to the beaten egg, oil and sugar, and gently fold.
Then add the carrots and fold, followed by the pecans.
Bake for around 40min, or until a toothpick inserted comes out clean.
CREAM CHEESE ICING
350g cream cheese
150g butter
75g icing sugar
50g honey
METHOD
Cream the butter until light and airy.
Then add in the honey and icing sugar and beat until combined.
In a separate bowl, beat the cream cheese until smooth.
Then gently fold the cream cheese into the butter and icing sugar mixture.
Beating the cream cheese separately ensures that it is not over beaten.
Recipe by adventureswithsugar.com